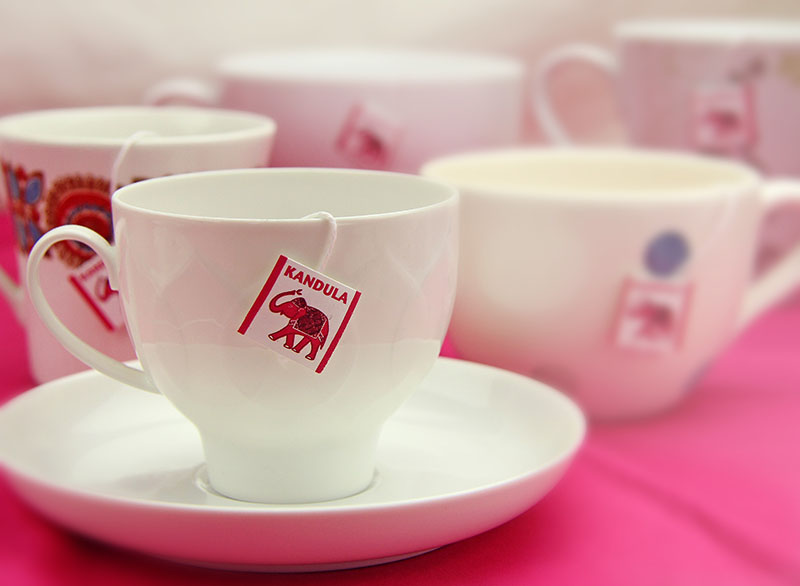 To enjoy a good cup of tea it is important that it is infused with care so that the flavours are released from the leaves properly. Unlike a mug of 'builder's tea', quality tea needs to be treated with a little more respect. So that you can enjoy all the Sri Lankan Single Estate Kandula teas, each one has its own brewing instructions.
Green and white teas are best when the just boiled water is allowed to cool for around 5 minutes before infusing the tea. Pouring scalding hot water over green or white tea can impair the taste and colour. Even black teas require the water to come off the boil before infusing. All that is needed to enjoy the perfect cup of tea is a little care and patience.
Kandula sent us one of each variety of their teas in the form of teabags, or as they prefer to call them, 'Tea Gems'. The name is no gimmick as each biodegradable bag – which, interestingly, is made from corn starch – contains some very precious ingredients.
As the bags are semi transparent it is easy to see the quality of the leaves and in the case of the infusions, the whole pieces of fruit and spices.
For those seeking a pleasurable tea drinking experience, Kandula Tea is specially blended to create a drink that is fragrant and refreshing with not a single hint of bitterness. Even the black teas can be enjoyed without milk, so if like us you've never been keen on drinking your tea black, Kandula Tea will positively change your mind.
There is also a range of infusions made with herbs, fruits and spices which are all caffeine free, with the exception of the Spiced Mango Infusion which contains some green tea.
The quality of the ingredients really shines through as the flavours are real – often fruit teas can have added flavourings – but with Kandula Tea's infusions there's no need.
Here is a brief summary of what you can expect from the range of Kandula Teas:
White and Green Teas
Single estate whole leaf Camellia Sinensis teas prepared without fermentation to retain high levels of antioxidants with low levels of caffeine.
Ceylon Pink Tea
Green tea with a pink blush and delicate smokey taste. Blended with a hint of exotic hibiscus flower.
Ceylon Ivory Tea
A rare white tea with a beautiful pearly hue and smooth taste. Only the young leaves and buds are blended to create exclusive and exceptionally healthy tea with only a trace of caffeine.
Ceylon Green Tea
An exceptionally fine green tea with a smooth gentle taste, without any bitterness.
Black Teas
Orange Pekoe teas, the prized black tea from the Uva region and the western slopes of Sri Lanka. Grown close to the equator these Ceylon teas are additionally high in antioxidants.
English Breakfast Tea
A blend of Flowery Broken Orange Pekoe, it is a bold tea, full bodied and bright with a refreshing character. Enjoy black, with milk or lemon.
Ceylon Ebony Tea
A classic Ceylon tea, smooth and golden. Light, easy drinking and idea to enjoy at any time. Enjoy black with milk or lemon.
Ceylon Ebony Chai
An exotic and aromatic blend with wholeCeylon spices. Especially blended to enjoy black and delicious with dark chocolate. Also great as a traditional chai with milk and honey.
Ceylon Earl Grey Tea
Kandula's version of the classic has distinctive bright citrus notes. Blended with natural oil of bergamot for a wonderful lemony flavour. Enjoy black, with milk or lemon.
Infusions
Natural infusions, where herbs, whole spices and real fruits are combined to create great tasting and naturally healthy brews. They also make deliciously refreshing iced drinks.
Pure Peppermint Leaf
Fresh infusion of pure peppermint leaf. Perfect after any meal to revive your digestive system. Naturally caffeine free.
Spiced Mango Infusion
A delicious blend of green tea with cardamom and mango. Very low in caffeine. Enjoy hot – or chill for an iced tea
Strawberry Hibiscus Infusion
A fresh blend of real berries with a hint of warm spices – bursting with vitamin C. Naturally caffeine free. Enjoy hot – or chill for an iced drink.
Lemon Ginger Infusion
A warming blend of lemongrass and orange peel with a lovely burst of ginger. Naturally caffeine free. Enjoy hot – or chill for an iced drink.
Moroccan Mint Infusion
An aromatic blend of Eastern spices with fruits and herbs, infused with mint. Naturally caffeine free. Enjoy hot – chill for an iced drink.
Join our Newsletter Email List
For the latest producer info, shows, markets, recipes, competitions and more each month.
Please be assured that we don't sell or pass on your information to third parties.
Keep up to date with:
New and approved producers and produce
Offers, discounts, competitions and more
Seasonal produce and great tasting downloadable recipe ideas
Shows, events and markets