Bosun's at the helm of twice infused oils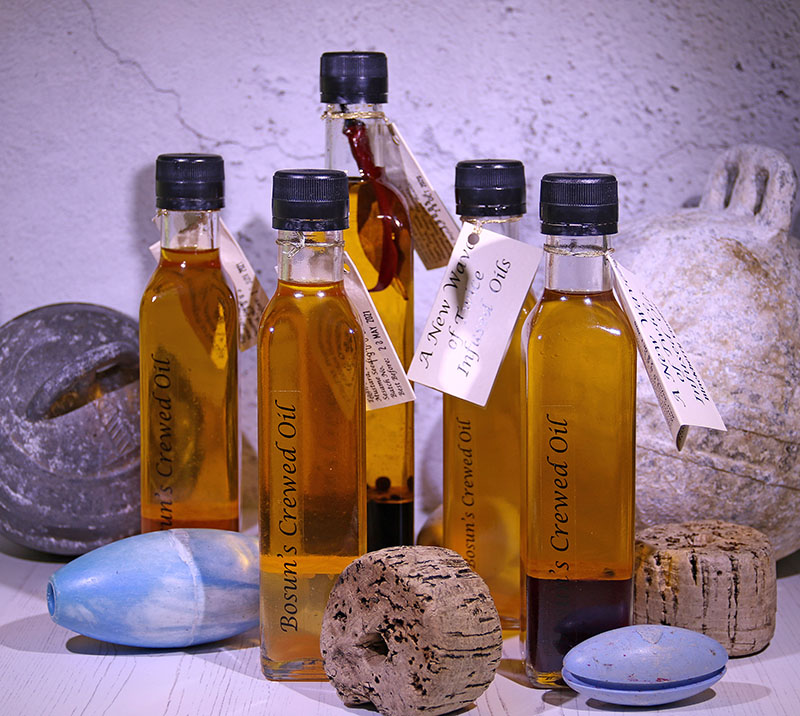 Just as Bosun's Exceptional Food Products is a long brand name, their range of twice infused oils carry an exceptionally long ingredients list too. A lot really does go into making them but at least the ingredients are all completely natural, being a combination of vegetables, fruits, herbs and spices.
To show just how many things are added to the oil, as part of Bosun's double infusion process, they are listed in this pop-down box
Extra virgin cold pressed rapeseed oil 50%
Extra virgin olive oil 25%
Yaffle House Fruit Vinegar 25%
Onions
Sweet peppers
Shallots
Oranges
Lemons
Limes
Apricots
Carrots
Garlic
Sultanas
Ginger
Bay leaves
Basil
Rosemary
Thyme
Marjoram
Balsamic vinegar
Black peppercorns
Pimento seeds
Cloves
Hot chilli peppers
Paprika
The Artisan Food Trail was sent a carefully packed box of five different twice infused oils to try; Original, Orange & Bay Vinegar, Soy & Balsamic, Blackberry Vinegar and Plum & Ginger Vinegar.
As with most dressings, the contents separate out with the oil on top and vinegar at the bottom. The bottles had jiggled around in transit, mixing things slightly so we let them settle for a time before photographing.
There is a definite nautical seafaring theme being followed, evident in the labelling's play on words, such as 'A New Wave' and 'Crewed Oil' perhaps relating to Bosun's proximity to the coast at Felixstowe in Suffolk.
Tasting Bosun's twice infused oils
All Bosun's twice infused oils use a blend of cold pressed rapeseed oil and extra virgin olive oil. Rapeseed oil is the higher percentage here and the most dominant in flavour, and gives the finished products a deep golden colour.
Cold pressed rapeseed oil does have a particularly strong flavour which not everyone enjoys. It can be nutty, slightly mustardy and to some, has a hint of cabbage about it. All worth bearing in mind if rapeseed is not a favourite because it still stands above all the other flavourings that are infused into it.
As the rapeseed oil has such a dominant flavour, we feel, perhaps the accompanying olive oil is all but lost.
To be honest we were expecting an unusual and complex flavour from the all those vegetables, fruits, herbs and spices but there is no discernible flavour. Maybe this is intentional to achieve an overall taste rather than being able to detect individual ingredients, but for so much going into this oil, we were expecting more of a unique character.
All oils/dressing have an acidity from added vinegar – the fruit vinegar used is from 'Yaffle House', which we discovered is made by another artisan producer also based in Suffolk. Each fruit vinegar lends a different character and a little sweetness, making the oils/dressings more versatile. They are ideal for everything from marinades for meats and vegetables to adding zing to salads.
The soy and balsamic version is by far the most flavourful and spicy hot. The whole dried chilli and peppercorns floating in it, being a contributing factor.
For those who rather not rustle up their own dressing in the kitchen, these are a quick go-to for an instant meal time addition. We'd recommend tasting first to gauge how much to pour on your food – the flavour is intense.
As with any dressing they separate out when left to stand for a while, so need a good shake to mix everything up prior to use. They look more appealing once amalgamated too.

Artisan Food Trail Approved
We are pleased to give this award to Bosun's Exceptional Food Products for their Twice Infused Oils; Original, Orange & Bay Vinegar, Soy & Balsamic, Blackberry Vinegar and Pum & Ginger Vinegar
Notes on product labelling
Bosun's Exceptional Food Products are a relatively new artisan food business, the labelling being a giveaway. It looks, and possibly is, homemade. The bottle labels are printed on clear film and all of the main information regarding, ingredients, product variety, allergen info, producer details, best before date etc. are printed on a folded card neck tag. Our main concern was if the tag was to fall off and go missing in a shop. This could lead to stock needing to be trashed as it couldn't be identified and wouldn't be fit for sale.
We by no means intend this to be harsh criticism without good reason. Alongside The Artisan Food Trail we also run a design business and producing packaging for food producers is one of the things we do. Creating a design which presents our clients' products in the best way is important. Not only does it need to be aesthetically pleasing, attractive and sell straight off the shelf to a potential consumer, we also understand the technical requirements needed to comply with food label regulations.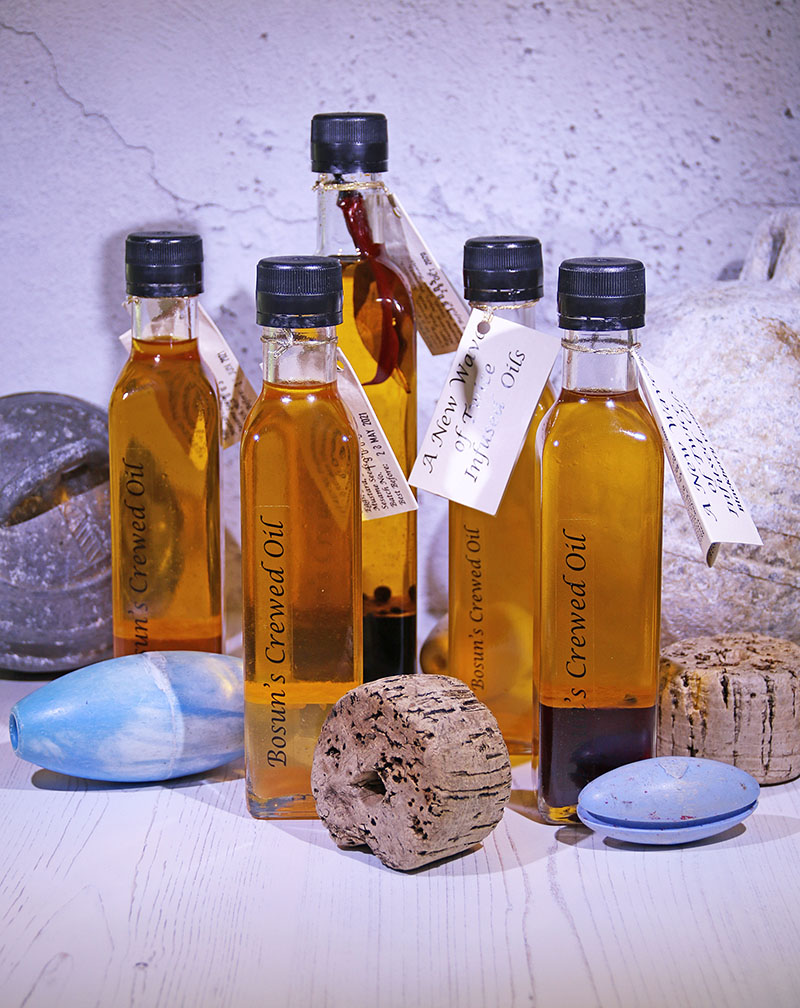 Sign up to receive our newsletter
For the latest producer info, shows, markets, recipes, competitions and more each month.
Please be assured that we don't sell or pass on your information to third parties.
Keep up to date with:
New and approved producers and produce
Offers, discounts, competitions and more
Seasonal produce and great tasting downloadable recipe ideas
Shows, events and markets