A refreshing change: Tg hot green teas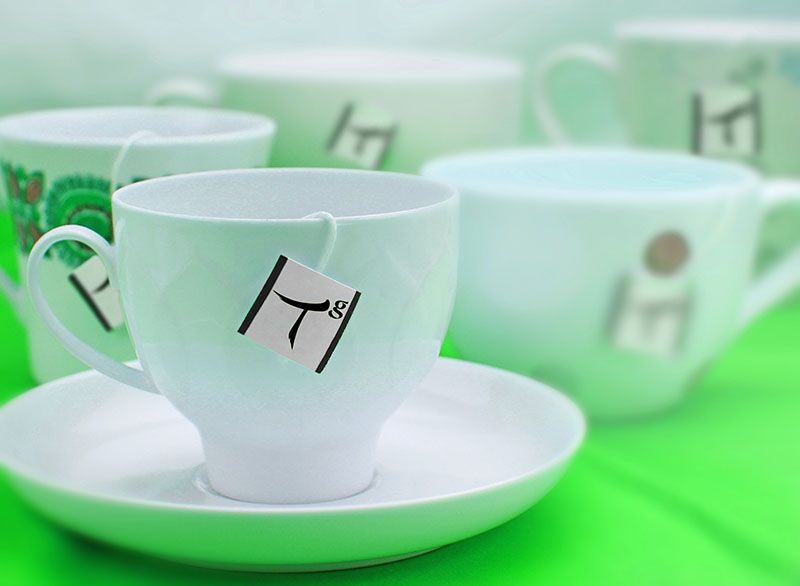 A short while ago we tested out Tg Green Teas Iced Green Tea which won our approval and now it's time to put the kettle on and brew up their hot teas.
There are three flavour variations, each in neat pyramid bags which are filled with good quality tea leaves. There's nothing at all dusty about these and the leaves are of a good size and smell wonderful. It might sound usual, and you may disagree, but we thought the dry leaves had an almost chocolatey aroma.
After some careful tea making (more about that later) we made some good tasting drinks. To be honest it has taken us a while to get into drinking green tea mainly because it has been a long journey in finding a good green tea. Some have either been too insipid or had a strange seaweed-like flavour.
Not so with Tg. It is has a refined flavour.
Let's look at the green tea flavours individually…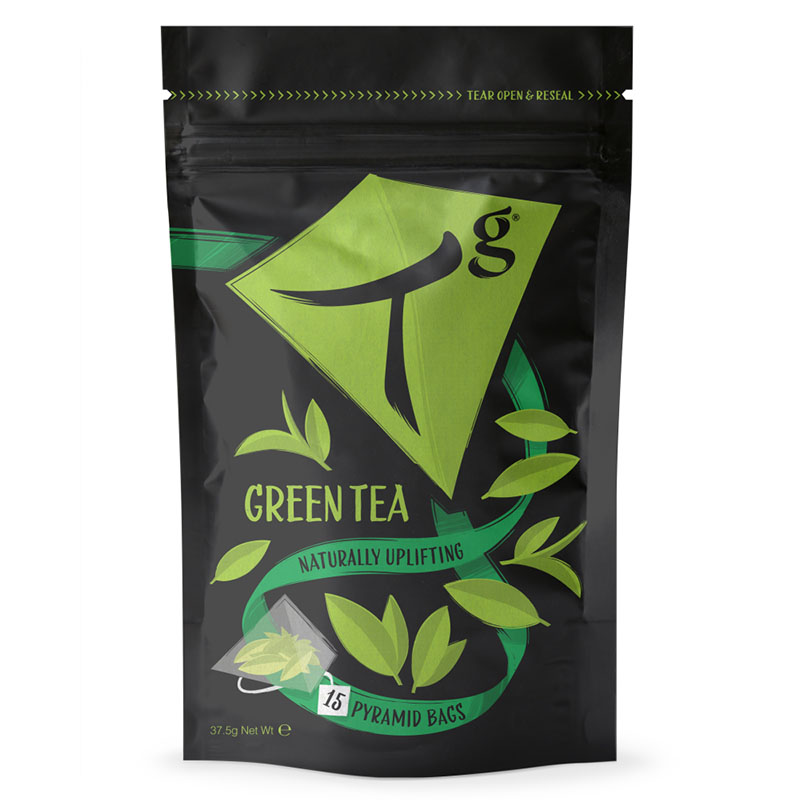 Green Tea
This is green tea in its purest and exceptional from. It brews to a delicate golden colour and has a nutty aroma. The flavour has notes of hazelnut which is initially smooth with a slightly tangy dry finish. A sipping tea for some relax and contemplation time.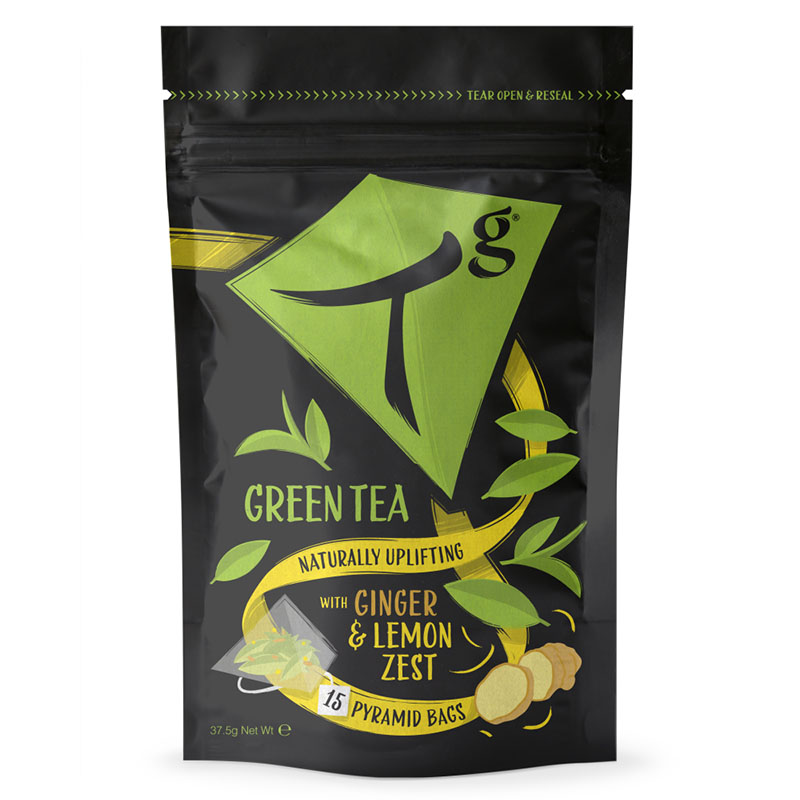 Green Tea with Ginger & Lemon Zest
The lemon smell is wonderful and certainly not overpoweringly 'unreal' which can often be the case in some mainstream brands. A light golden brew delivers a fresh enlivening flavour with a hint of warm ginger tingle. A mood lifting, head clearing drink ideal to enjoy first thing in the morning.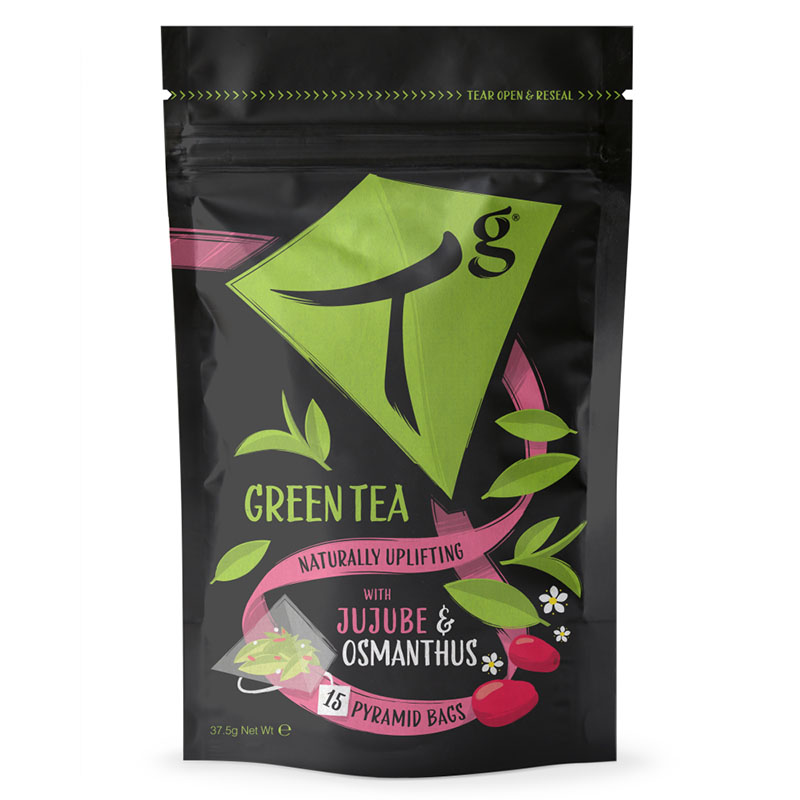 Green Tea with Jujube & Osmanthus
This tea has a more pronounced fruity flavour from the jujube (Chinese red date) and a slight raisin-like sweetness. The Osmanthus flowers imbue a gentle fragrance. The colour is a little darker than the others. Treat yourself with this rich smooth-tasting tea.
The teabags come in a resealable pouch which will keep the tea fresh, perfect for those who don't have an airtight caddy to store them in. Fifteen bags may not seem many but the beauty of this tea is that a bag can be brewed for a second time and maybe even at a push, a third!
Perfecting the art of brewing green tea
Green tea has to be treated with respect to get the best from it. Remember, it is not your average everyday dunk-and-drink cuppa or a mug of 'builder's'.
Water temperature is very important Whatever you do, don't use just-boiled water from the kettle – it is too hot! The optimum temperature for green tea is 80°C, anything hotter will cause bitterness to be released from the naturally occurring tannins which can be unpleasant.
Take your time and leave the kettle to stand for 5 minutes or if you're very particular, pour the water into a jug and use a temperature probe to check it reaches the essential 80°C. We know it seems pedantic but we've found it very effective especially if your kettle is well insulated.
Now you can make your tea. Drop the tea bag into a cup and pour on the water and leave to steep for up to 3 minutes. We like ours at the 2 minute mark.
Do not be tempted to mash the bag about with a teaspoon and do not squeeze it either as this will also release the bitter tannins. A gentle swish will suffice, then when your preferred flavour is achieved lift out the bag and put it on to a saucer to be used again.
Join our Newsletter Email List
For the latest producer info, shows, markets, recipes, competitions and more each month.
Please be assured that we don't sell or pass on your information to third parties.
Keep up to date with:
New and approved producers and produce
Offers, discounts, competitions and more
Seasonal produce and great tasting downloadable recipe ideas
Shows, events and markets