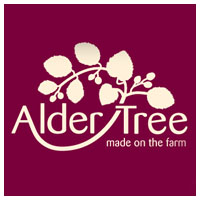 Alder Tree
Award winning ices handmade on Alder Tree's fruit farm in Suffolk to a traditional family recipe. Made with only fruit, cream and sugar, they are naturally delicious!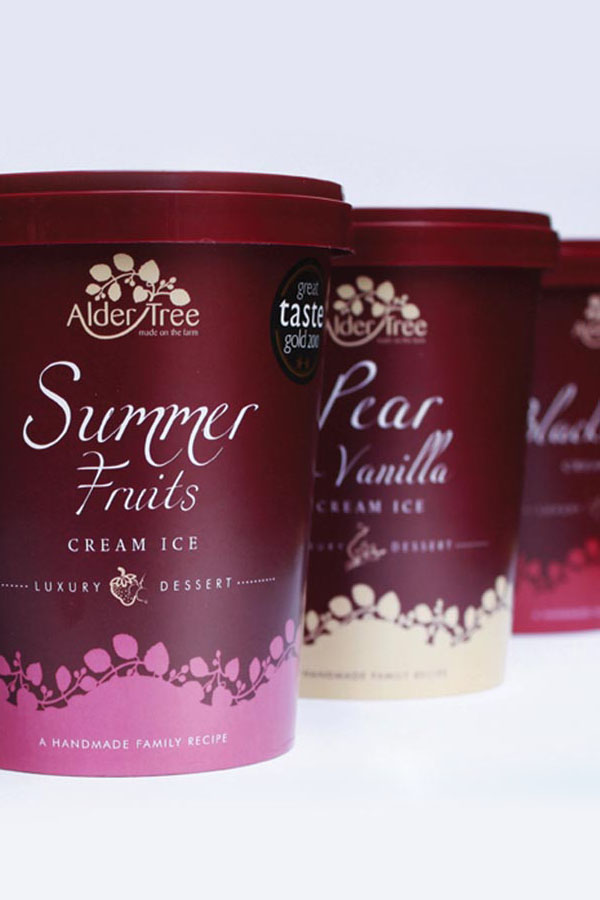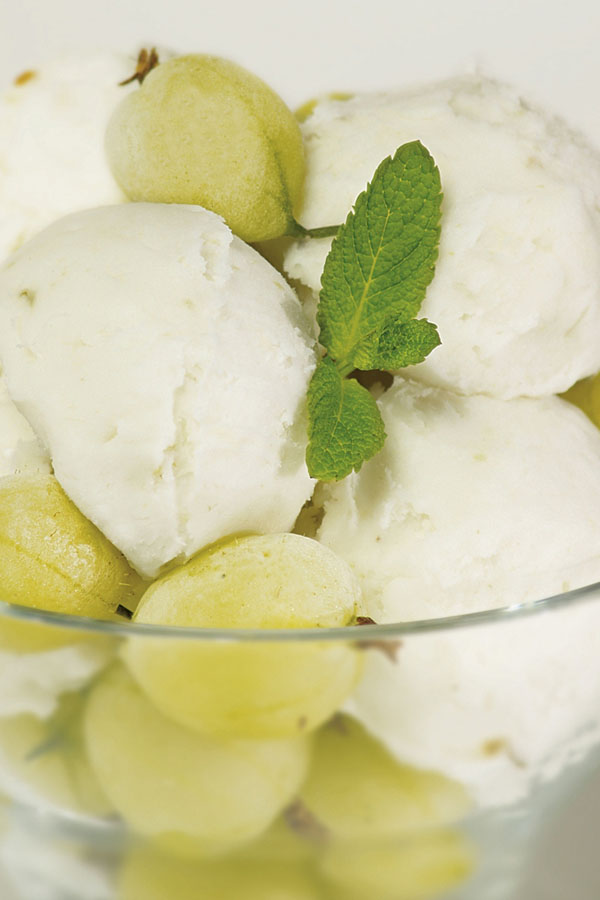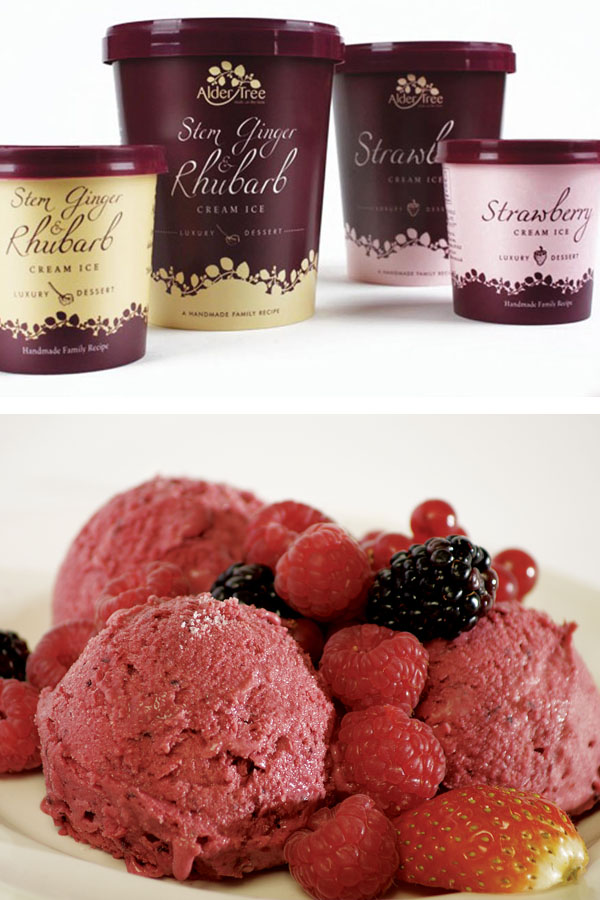 Alder Tree uses the finest ingredients and an exceptionally high fruit content to create the perfect balance between the fresh taste of sorbet and the rich creaminess of dairy ice cream. With only fresh fruit, cream and sugar in the small, hand made batches, there are no artificial flavourings, colourings or preservatives in a frozen dessert that is creamy and exceptionally fruity.
Over 60% of their fruit comes from their own farm,  Alder Carr Farm, or their family farm at Bury St. Edmunds. The remainder is grown on small farms within East Anglia.
Some ingredients, such as ginger or vanilla, do have to come from abroad, these are from organic sources or are fairly traded products to help ensure a fair deal for people and environment abroad.
Alder Tree ices have been produced since 1987 when a bumper crop of raspberries led them to try out an old family recipe. They began by selling through their own farm shop, and were soon asked if they could supply other outlets.
The simple combination proved such a success that they've never looked back, but remain true to their original ideals. Alder Tree also only supply independently owned outlets, thus providing small retailers and eateries with something that can't be found in the large multiples.
Flavours include: Gooseberry and Elderflower • Stem Ginger and Rhubarb • Summer Fruits • Toffee Apple • Pear and Chocolate • Tayberry • Damson and more!
"Pure flavour of pure fruit. This is the way food should taste.!"  
Thomasina Miers, Food Writer and Restauranteur
"I'm a huge, huge fan of Alder Tree Fruit Cream Ice"  
Rose Prince, Food Columnist, The Daily Telegraph

AFT Approved Products
Gooseberry & Elderflower Fruit Cream Ice
Recipes and Food Inspiration
Coming soon
Events Attending
Coming Soon
Awards
Great Taste Awards 2021:
Raspberry Fruit Cream Ice – 2 stars
Summer Berries Fruit Cream Ice – 1 star
Gooseberry & Elderflower Fruit Cream Ice – 1 star
Damson Fruit Cream Ice – 1 star
---
Great Taste Awards 2020:
Blackcurrant Fruit Cream Ice – 3 stars
Raspberries & Cream – 2 stars
Gooseberry & Elderflower Fruit Cream Ice – 2 stars
Damson Fruit Cream Ice – 1 star
---
Great Taste Awards 2018:
Blackcurrant Fruit Cream Ice – 2 stars
Raspberries & Cream – 2 stars
Gooseberry & Elderflower Fruit Cream Ice – 1 star
Damson Fruit Cream Ice – 1 star
---
Great Taste Awards 2017:
Blackcurrant Fruit Cream Ice – 2 stars
Raspberries & Cream Fruit Cream Ice – 1 star
Stem Ginger & Rhubarb
Fruit Cream Ice – 1 star
Summer Berries Fruit Cream Ice – 1 star
---
Great TasteAwards 2016:
Gooseberry & Elderflower Fruit Cream Ice – 2 stars
Damson Fruit Cream Ice – 1 star
Blackcurrant Fruit Cream Ice – 1 star
Stem Ginger & Rhubarb Fruit Cream Ice – 1 star
---
Great Taste Awards 2015:
Apple & Cinnamon Fruit Cream Ice – 2 stars
Tayberry Fruit Cream Ice – 2 stars
Blackcurrant Fruit Cream Ice – 2 stars
Summer Berries & Cream Fruit Cream Ice – 1 star
Christmas Pudding Fruit Cream Ice – 1 star
Gooseberry & Elderflower Fruit Cream Ice – 1 star
Raspberries & Cream Fruit Cream Ice – 1 star
Stem Ginger & Rhubarb Fruit Cream Ice – 1 star
Velvety Vanilla Cream Ice– 1 star
---
Great Taste Awards 2014:
Gooseberry & Limoncello Fruit Cream Ice – 3 stars
Stem Ginger & Rhubarb Fruit Cream Ice – 2 stars
Summer Pudding Parfait Fruit Cream Ice – 1 star
Blackcurrant Fruit Cream Ice – 1 star
Summer Berries & Cream Fruit Cream Ice – 1 star
Tayberry Fruit Cream Ice – 1 star
Damson Gin Fruit Cream Ice – 1 star
---
Great Taste Awards 2013:
Damson Fruit Cream Ice – 3 stars
Blackcurrant Fruit Cream Ice – 2 stars
Summer Fruits Fruit Cream Ice – 2 stars
Stem Ginger & Rhubarb Fruit Cream Ice – 2 stars
Gooseberry & Elderflower Fruit Cream Ice – 1 star
Tayberry Fruit Cream Ice – 1 star
Raspberry Fruit Cream Ice – 1 star
Strawberry Fruit Cream Ice – 1 star
Summer Berry Parfait Fruit Cream Ice – 1 star
---
Winner of 2010 Quality Food Awards Local Food Q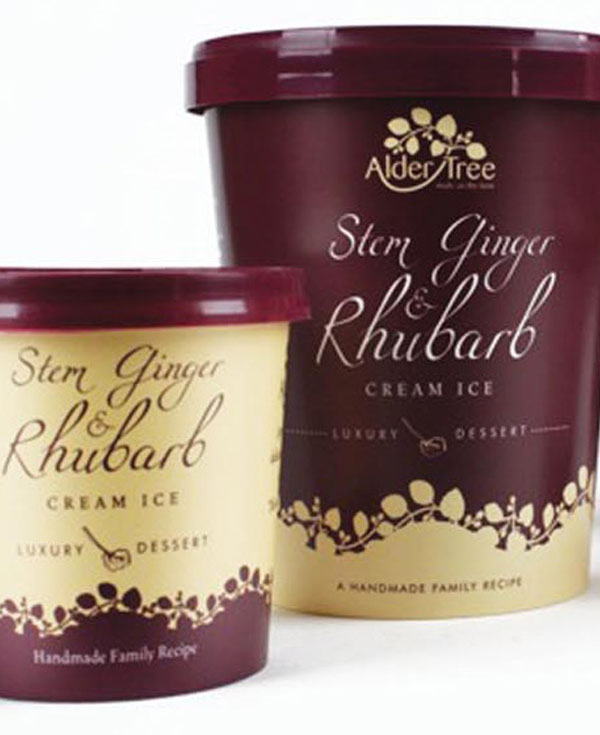 Alder Carr Farm
Creeting St Mary
Ipswich
Suffolk
IP6 8LX
When contacting any of our members, please mention that you found them on The Artisan Food Trail