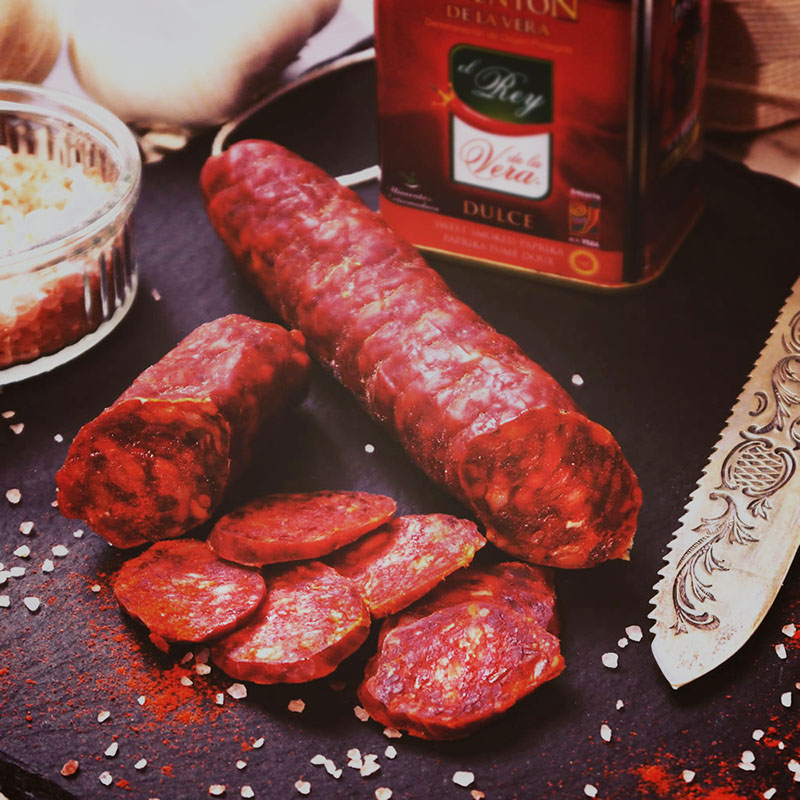 Chorizo is probably one of the most versatile pieces of charcuterie to have at hand in the kitchen. The rich meaty sausage is flavoured with smoked paprika which gives a deep red colour and great depth of flavour. It can be eaten just as it is as a snack – sliced or in a sandwich – and can be used in cooking to bring a distinctive flavour to variety of dishes.
We had been lucky enough to get to try some Yorkshire Chorizo, sent to us by Chris Wildman of Town End Farm Shop. It is made from only the best cuts of British RSPCA Freedom Food pork and the finest smoked Spanish Paprika.
We really loved the texture, chewy but not dry and the flavour is pleasantly intense, meaty with a savoury sweetness. It has the type of flavour and texture that really makes your mouth water and is incredibly moreish.
We were given two types to test, the 'Original' and the 'Picante' which is given an extra bit of heat with the addition of some cayenne pepper – this proved to be our favourite as we like some spice in our cooking.
The chorizo was given the full cooking test too in our kitchen, with impressive results. The chorizo yields a beautifully coloured oil when heated which certainly brightened up the dishes we made.
Photos: © Town End Farm Shop
Join our Newsletter Email List
For the latest producer info, shows, markets, recipes, competitions and more each month.
Please be assured that we don't sell or pass on your information to third parties.
Keep up to date with:
New and approved producers and produce
Offers, discounts, competitions and more
Seasonal produce and great tasting downloadable recipe ideas
Shows, events and markets