Flying the flag for British confectionery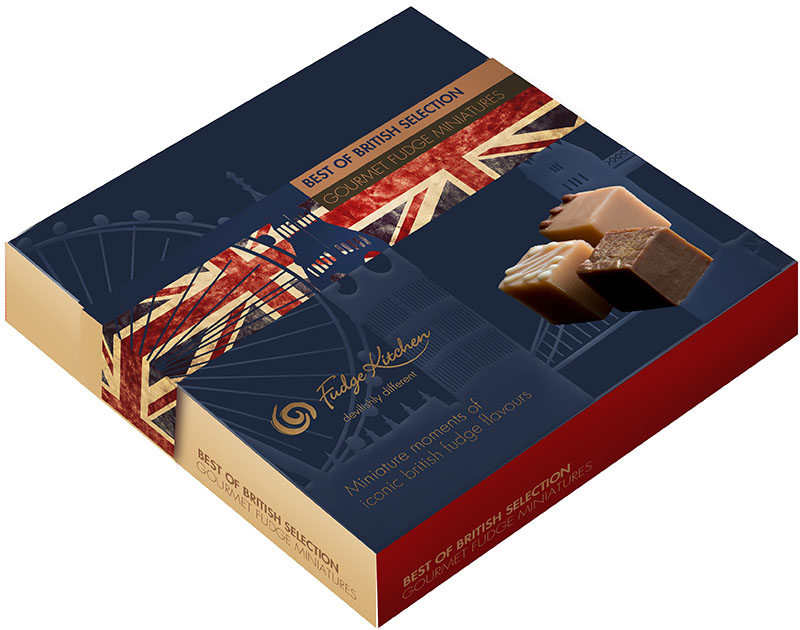 To celebrate the Queen's 90th birthday in 2016, Fudge Kitchen launch their Best of British fudge selection: nine miniature moments of British fudge history, gift bound by the Union flag.
Fudge Kitchen is truly flying the flag for British tradition, artisanal skill and product excellence. They are introducing the first of their new nine miniature selections range with the 'on the tin' name of Best of British.
Each beautiful 190g box of nine bite-sized pieces of meltingly smooth, handmade butter fudge, with impeccable provenance. The fudge uses locally sourced ingredients – the cream originating from some of the best British dairy farms.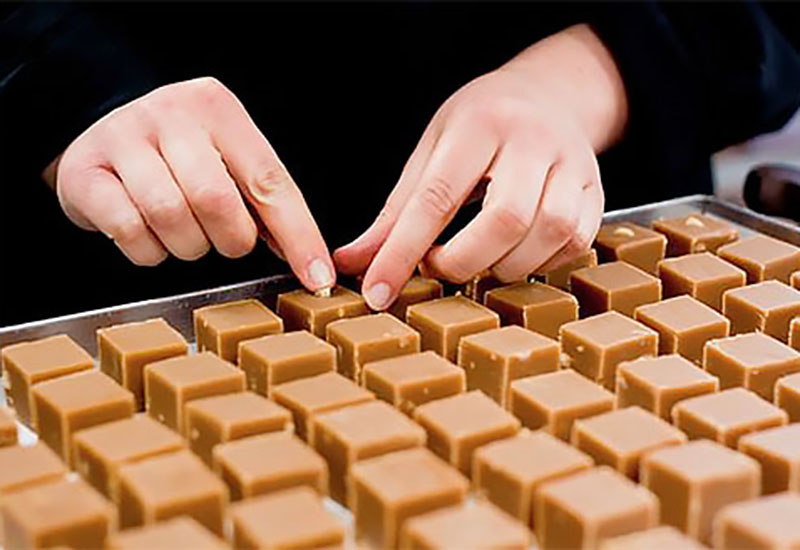 The three traditional British fudge flavours are all natural and gluten-free.
Toffee Caramel
A Great-Taste winner and King of Fudges. Fresh whipping cream from a Sussex dairy which encourages cow hugging to ensure healthy and happy cows (yes, really!), combined with light brown and white sugars and handmade salted caramel. Hand-decorated with caramel chocolate.
Butterscotch
Inspired by Penuche. Handmade with Taste of Kent award-winning Channel Island double cream from a local, Kentish dairy, which has been caring for their pedigree Guernsey herds since 1930. Combined with unrefined dark brown and light brown sugars and a pinch of top notch Madagascan vanilla. Hand-dusted with edible bronze glitter.
Clotted Cream
The classic fudge. Hand produced with thick, clotted cream from the South of England's most successful dairy, which has specialised in producing local, high quality dairy products in Dorset since 1958. Combined with white and light brown sugars and Madagascan vanilla. Hand-drizzled with white chocolate.
The Best of British fudge selection is available to buy online from www.fudgekitchen.co.uk and selected retailers.
Join our Newsletter Email List
For the latest producer info, shows, markets, recipes, competitions and more each month.
Please be assured that we don't sell or pass on your information to third parties.
Keep up to date with:
New and approved producers and produce
Offers, discounts, competitions and more
Seasonal produce and great tasting downloadable recipe ideas
Shows, events and markets