A spicy marmalade to be relished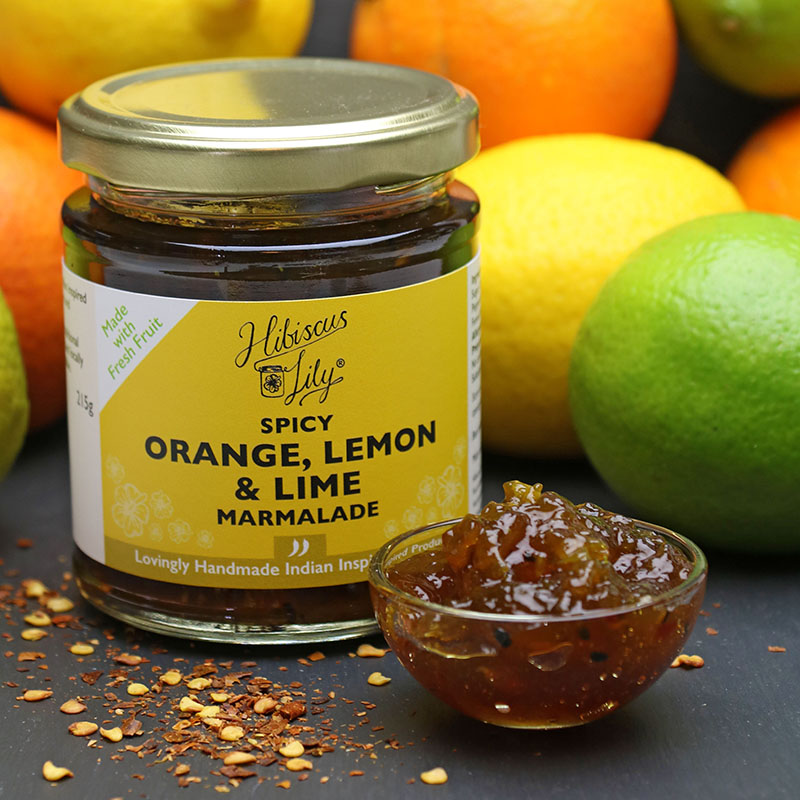 Hibiscus Lily
has brought out a new Spicy Orange, Lemon & Lime Marmalade to add to their range and we had been itching to try it.
Marmalade is one of our favourite preserves and often the chosen toast topping at breakfast time, but this new marmalade is something altogether different.
Hibiscus Lily have created a marmalade to go with savoury foods, so forget about the usual associations with marmalade and relish in the relish.
The Spicy Orange, Lemon & Lime Marmalade has already picked up a
Silver in the 2017 Marmalade Awards
and rightly so. The combination of citrus and spices is exciting and almost addictive. Every flavour has been well thought out and a careful hand has balanced the taste to perfection.
This preserve has just the right amount of sweet, sour and bitter flavours you'd expect from a good quality marmalade, but it's the Indian spicing that takes it to another plane.
A satisfying warmth and roundness pervades with ginger, black pepper and chilli. It is not overly hot or spiky so does not overpower other foods. The complementary flavours serve to enhance and excite the palate making meals even more enjoyable.
Other spices coming into play are earthy cumin and turmeric with herbal tones from fennel and onion seeds. No one element dominates as all work in complete harmony to form an almost unfathomable yet distinctive Indian flavour.
Hibiscus Lily recommend you try it with poultry, duck, cheese or root vegetables but we tried it with oily fish in our salmon recipe and it was equally superb.
Sign up to receive our newsletter
For the latest producer info, shows, markets, recipes, competitions and more each month.
Please be assured that we don't sell or pass on your information to third parties.
Keep up to date with:
New and approved producers and produce
Offers, discounts, competitions and more
Seasonal produce and great tasting downloadable recipe ideas
Shows, events and markets