Raising the bar for chocolate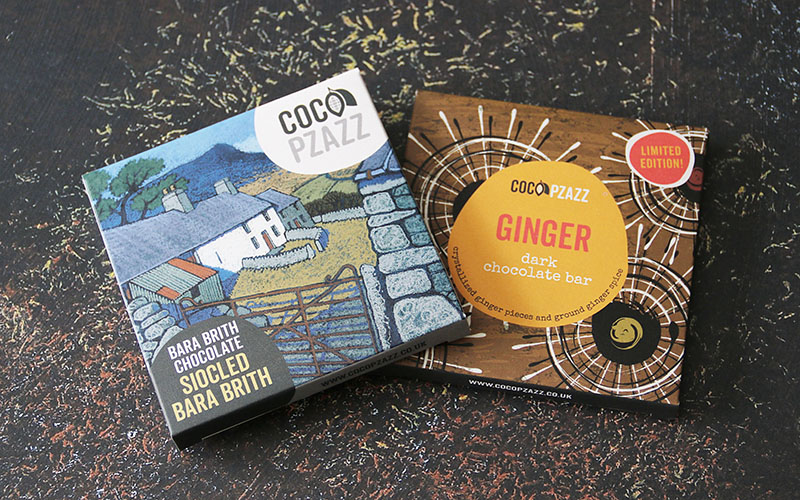 Getting to try some decent chocolate is always a real treat, so when we were sent some Coco Pzazz chocolate bars to taste, the anticipation and expectation was high.
The two neatly wrapped bars each containing 80g slabs of chocolate are a joy to the eyes as well as the taste buds. As with all of Coco Pzazz's packaging, which is also environmentally friendly, it is decorated in interesting designs which give their products great shelf appeal and gift giving potential.
The chocolate bars are moulded with a classic breakable block pattern giving 12 rectangular pieces, making it ideal to share.
The aroma is enticing and the chocolate shines with quality, this is proved by the good 'snap' when broken.
The two chocolate bars we received followed a spicy flavour theme, each with its own distinct flavour profile.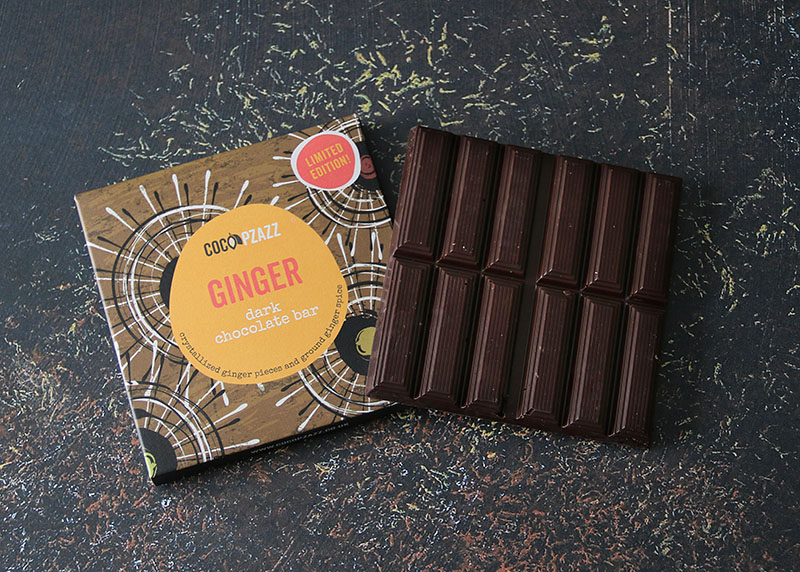 Coco Pzazz Ginger Dark Chocolate Bar
Dark chocolate is not everyone's favourite but this bar is so smooth and delicious, we think it could convert staunch milk chocolate lovers. For those who can't eat dairy products they'll be pleased to know it's entirely vegan.
The 70% cocoa content chocolate combined with pieces of crystallised ginger is a great match. A little zingy heat with the richness of the chocolate pair up for a sophisticated indulgent treat.
We're particularly fond of ginger with chocolate and this one from Coco Pzazz completely won us over.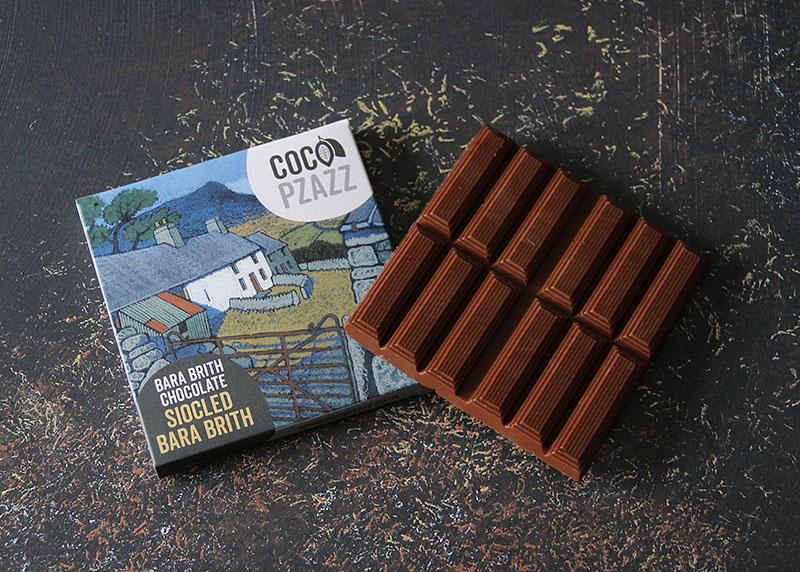 Coco Pzazz Siocled Bara Brith Milk Chocolate Bar
Drawing upon their roots, Coco Pzazz have created a milk chocolate bar that captures the taste of the traditional Welsh Bara Brith. Literally meaning 'mottled' or 'speckled' bread, it is a tea loaf enriched with dried fruit and spices. Served sliced and liberally spread with butter Bara Brith has been enjoyed since the 18th century.
Did you know?
The raisins are hand-placed to ensure that a piece of fruit is included in every bite. That's what makes Coco Pzazz chocolate so special as a lot of thought and care goes into each bar.
So how does this translate into milk chocolate bar? For a fruit-filled experience, the chocolate is studded with raisins and the addition of spices is just right. The combination is a well-round blend of coriander, cassia, ginger, nutmeg and fennel giving a warm and comforting flavour. We reckon this is the chocolate bar to pack for a long hill walk

Artisan Food Trail Approved
We are pleased to give this award to Coco Pzazz for their Ginger Dark Chocolate Bar and Siocled Bara Brith Milk Chocolate Bar
Continuing with the Welsh theme, Coco Pzazz have chosen some artwork by a local artist to decorate the packaging. The imagery 'Rowlyn Isa' is by the landscape painter, Chris Neale and captures the Welsh countryside and homely cottage where you could imagine the smells of a baking Bara Brith wafting through the valley.
Find out more about Coco Pzazz on The Artisan Food Trail
Sign up to receive our newsletter
For the latest producer info, shows, markets, recipes, competitions and more each month.
Please be assured that we don't sell or pass on your information to third parties.
Keep up to date with:
New and approved producers and produce
Offers, discounts, competitions and more
Seasonal produce and great tasting downloadable recipe ideas
Shows, events and markets