Fantastic four for every occasion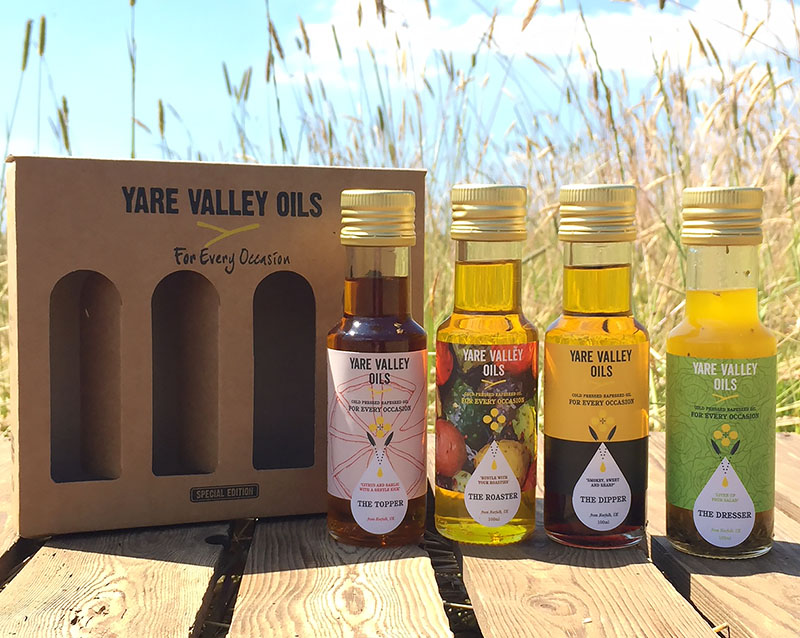 The For Every Occasion selection box is a new concept from Yare Valley Oils providing a range of oils to suit a variety of uses in the kitchen and beyond.
The four types use a base of Yare Valley Oils' high quality, grown and made on the farm, Norfolk cold pressed rapeseed oil. This is blended with herbs, spices and other delicious ingredients to create a burst of flavour in each bottle.
From dressing to drizzling, roasting, baking and much more they are certainly useful for every occasion bringing a little something extra to all kinds of foods.
The four 100ml bottles included in the pack are:
The Topper 'Citrus and garlic with a gentle kick'
Perfect for pizzas, salads, marinades, grilling and general drizzling.
The Dipper 'Smokey, sweet and sharp'
This wonderful blend of oak smoked oil and apple balsamic makes it a delight for dipping, salads, marinades and general drizzling.
The Roaster 'Rustle with your roasties'
Unrivalled for roasting meats and vegetables, bread making, marinades, grilling and general drizzling.
The Dresser 'Liven up your salad'
Delectable for dressing, dipping, marinades, lamb, chicken, pork, pasta, vegetables – try it with peas and new potatoes.
The For Every Occasion boxes are available to buy online direct from Yare Valley Oils, The Yare Valley physical farm shop or from selected stockists.
Photos: © Yare Valley Oils
Sign up to receive our newsletter
For the latest producer info, shows, markets, recipes, competitions and more each month.
Please be assured that we don't sell or pass on your information to third parties.
Keep up to date with:
New and approved producers and produce
Offers, discounts, competitions and more
Seasonal produce and great tasting downloadable recipe ideas
Shows, events and markets