Back to the High Street: Fudge Kitchen shops reopen on 4th July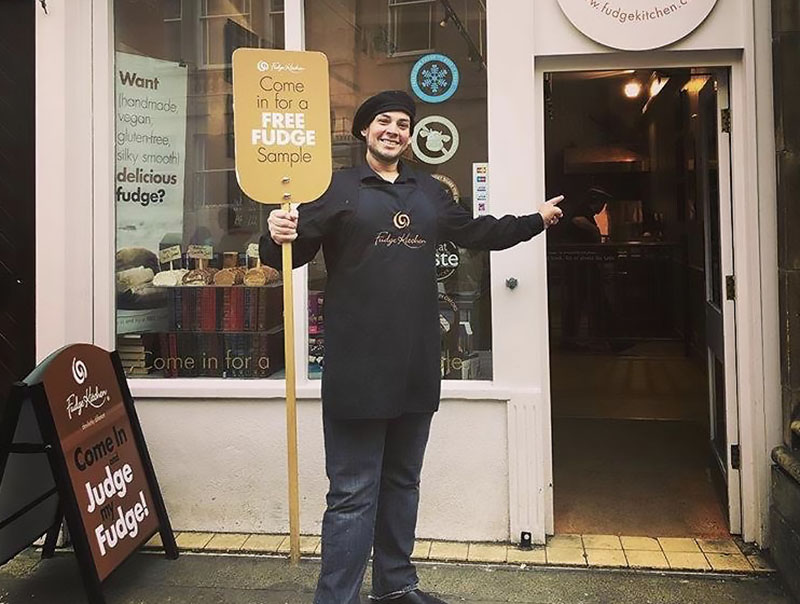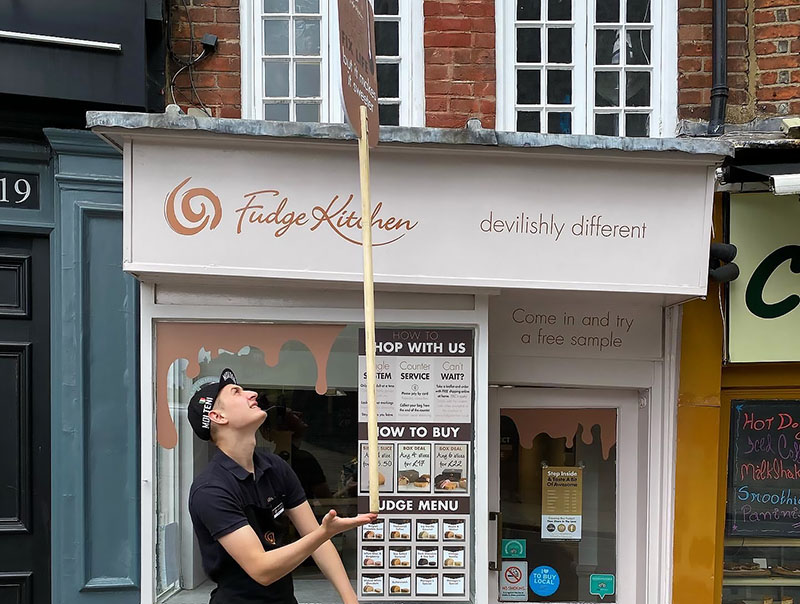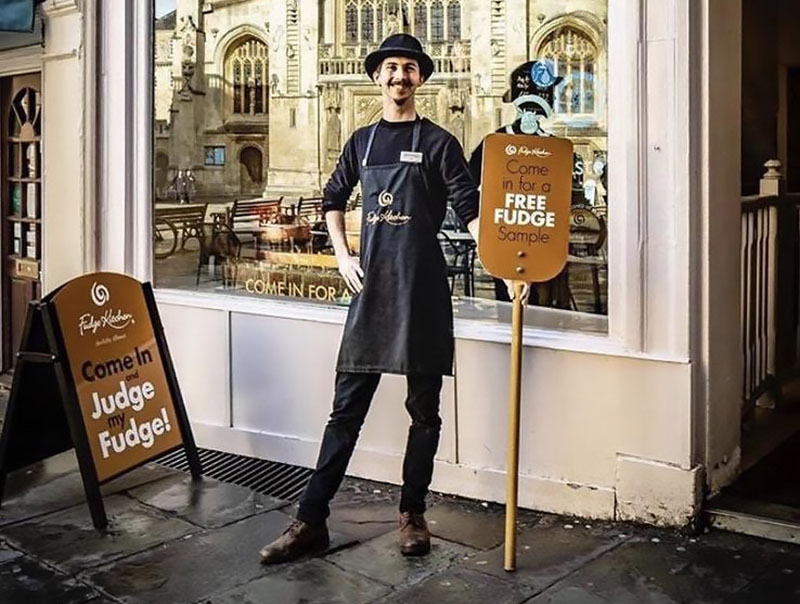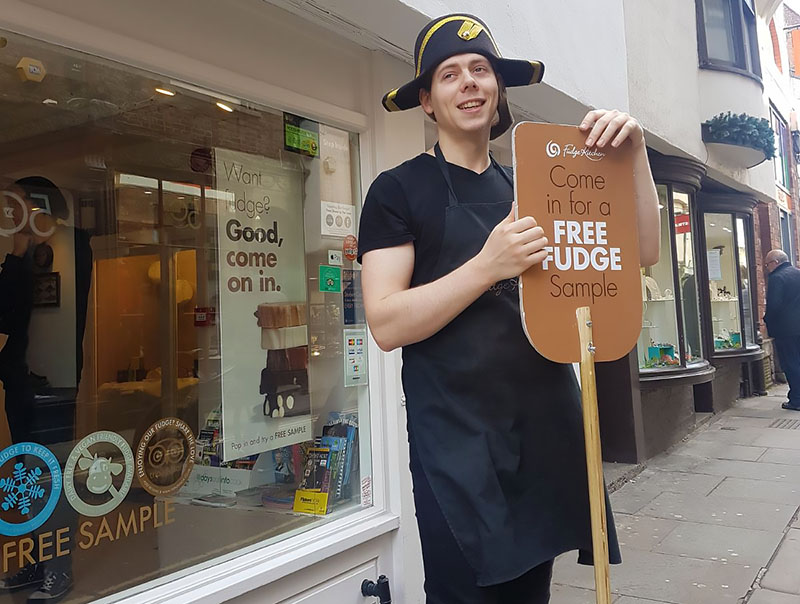 From Saturday 4th July at 10am six of Fudge Kitchen's high street shops will reopen their doors in Bath, Cambridge, Edinburgh, Oxford, Windsor and York. Staff are busy brushing up on their hat-wearing, paddle juggling and general smiley, welcoming skills in anticipation.
Since the March 23rd lockdown, Fudge Kitchen has focused on their growing ecommerce business to keep the fudge flame alight and has been so grateful for the huge support of their online customers. In return, they reduced their minimum shipping fee threshold, supported community charities and local hospital staff and developed new formats to allow their customers to send a Fudge Hug from afar.
Canterbury shop remains temporarily closed
While business on the High Street slowly recovers, with a significant number of customers still self-isolating or preferring to order online, the Canterbury shop – home of the stalwart mail-order team – will remain closed to the public. This extended temporary closure will allow the Kent team to concentrate on online order fulfilment safely and efficiently.
For Canterbury customers, Fudge Kitchen is offering a special 'locals' code for use online that will deliver fudge postage-free, which can be found on posters in the shop window from Saturday 4th July.
Sian Holt, MD of Fudge Kitchen said:
"Our 50 strong retail staff have been safely furloughed over this most difficult 100 days, but are all anxious to get back to what they do best: creating exceptional, artisan fudge and entertaining their customers. We have kept ourselves busy, connected and upbeat with weekly Fudge Challenges and internal updates, so the essence of our special Fudge Family remains very much intact; and their creativity and positivity, as ever, shone through the troubles. But we've missed each other, are thrilled to be able to open our doors again and have particularly missed our customers. We look forward to welcoming them all back.
It's an honour to have been part of people's lockdown support of loved ones," says Holt. "Whether self-isolating, furloughed, or recovering from COVID-19, our customers' heart-warming stories, warm wishes, thoughtfulness and positive reviews have moved and buoyed us too!"
What is Fudge Kitchen doing to ensure the safety of their customers and staff?
In preparation for the re-opening, and following Government guidelines, Fudge Kitchen has introduced a range of new safety measures to make shopping as easy, enjoyable and safe as possible, including:
Menu cards in windows, allowing customers to make flavour choices while queuing or before entering the shop.
A set price for single slices of fudge, alongside their popular box deals, to take out the weighing step and make the selection process easier.
Printed information leaflets available to take away, positioned outside each shop for customers who would rather not wait or are anxious about entering the shop; which allows customers to place their orders online with free delivery using a unique code, while also crediting the store they visited with the sale.

Already in place ahead of the lockdown, all sales remain cashless, by card, and preferably by contactless payment.
New social distancing markers on the floors help guide customers safely.
Hand sanitiser pumps fitted for customer use before and after entering the shop.
Clear protective barriers to create a one-way system throughout, including screening off the fudge making area and our counter spaces to protect our staff.
New counter Collection Points to allow customers to pick up their fudge in a contactless way.
With characteristic hospitality and personality, Fudge Kitchen's staff will ensure that only a safely distanced amount of people enter the shop at a time, which may involve a short wait outside. Fudge Kitchen appreciates their customers' patience with this measure, in advance.
Join our Newsletter Email List
For the latest producer info, shows, markets, recipes, competitions and more each month.
Please be assured that we don't sell or pass on your information to third parties.
Keep up to date with:
New and approved producers and produce
Offers, discounts, competitions and more
Seasonal produce and great tasting downloadable recipe ideas
Shows, events and markets