Mr Filbert's pumpkin seed snacks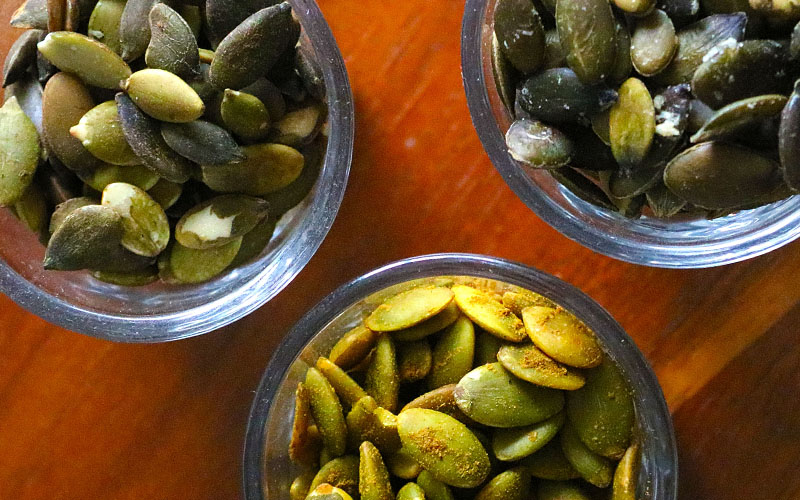 Pumpkin seeds make the ideal healthy snack and Mr Filbert's have created a range of exciting flavour variations to enjoy.
Mr Filbert's pumpkin seeds are hot air roasted to lock in the nutrients giving these snacks some health benefits. Not only are they 100% natural, they're also suitable for vegetarians and those looking for a dairy free and gluten free option.
The handy little packets fit in your pocket or lunch box so are perfect as an on the go snack which is great for work, school or as an energy boost for walkers, cyclists etc.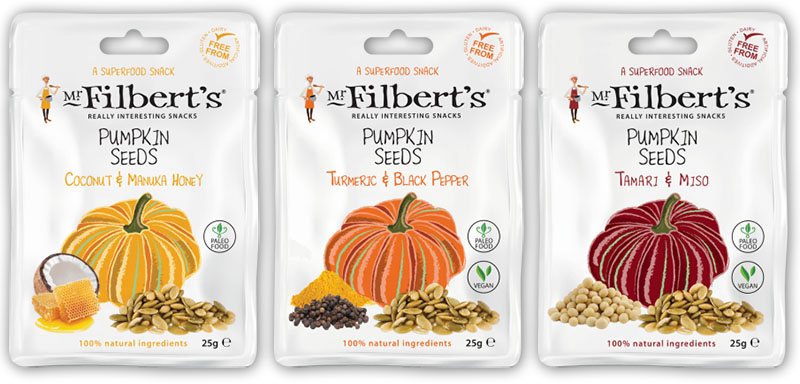 There are currently three varieties of Mr Filbert's pumpkin seeds to choose from; Coconut & Manuka Honey, Tamari & Miso, or Turmeric & Black Pepper. All use natural ingredients and are completely free from artificial flavours and preservatives.
We nibbled our way through Mr Filbert's pumpkin seeds and have to say we found it hard to stop! They are indeed delicious and particularly moreish and as we discovered, can be more than a snack.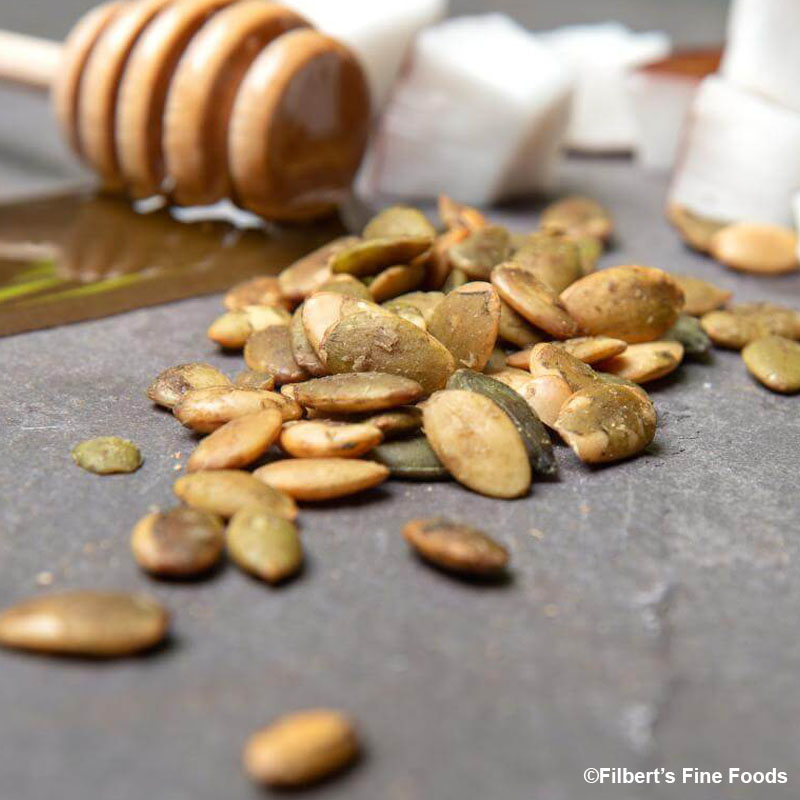 Coconut & Manuka Honey Pumpkin Seeds
We were expecting these to be sweeter owing to the honey but were pleasantly surprised to find the sweetness is subtle. The overall aroma is faintly floral and the coconut and touch of salt add just the right balance of savoury flavour.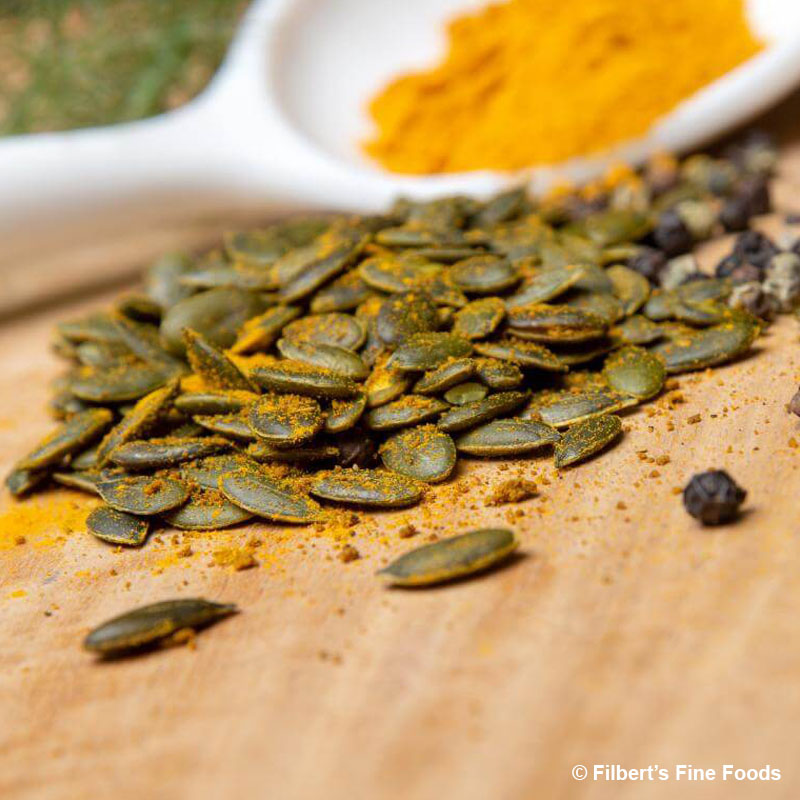 Turmeric & Black Pepper Pumpkin Seeds (vegan)
Being a sucker for some spice, these seeds appealed instantly. Turmeric lends a yellow hue and sweet earthy flavour whilst the black pepper adds a little tingling warmth. The ingredients also list ginger, coriander and cumin giving an Indian curry flavour profile.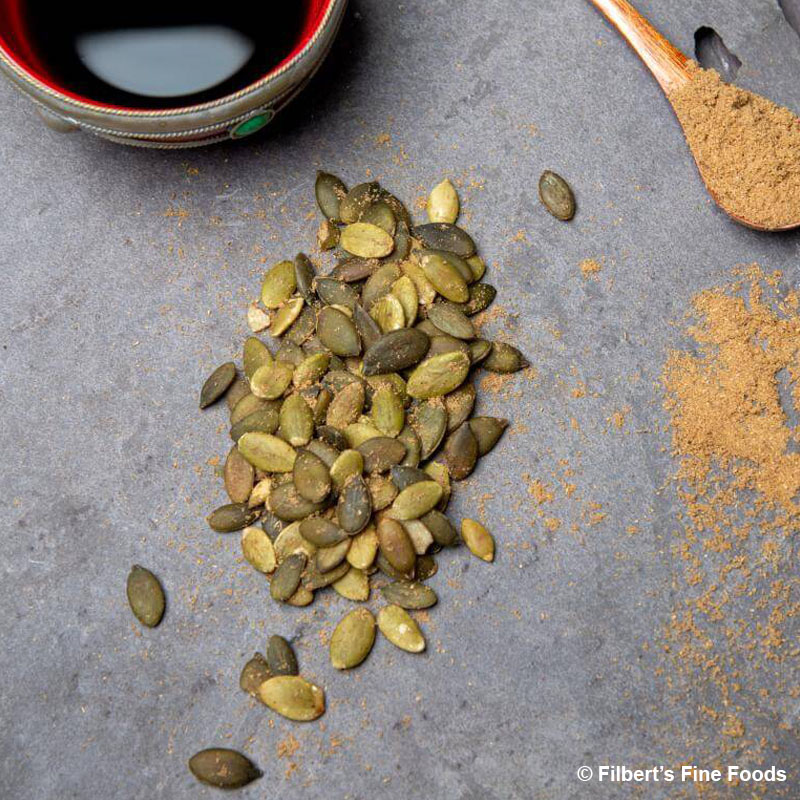 Tamari & Miso Pumpkin Seeds (vegan)
Turning to Japanese influences, these pumpkin seeds are full of the rich umami taste you'd expect. They're not too salty though, which is good. The seasoning is spot on and the deep savoury almost tangy flavour is very satisfying.
Pumpkin seeds are more than just a snack
One of the things we look for, when trying various foods, is their versatility. It's always a plus point when something can be used for more than it was originally intended.
Mr Filbert's pumpkin seeds don't have to be just for snacking, they can also be used in meals too. Try them sprinkled over salads, or scattered on pasta dishes or maybe even on top of a hearty soup.
Wherever you want to add extra flavour and texture, the seeds come into their own as a store cupboard essential.
Mr Filbert's pumpkin seeds are available from many good retailers and can also be bought direct from them online.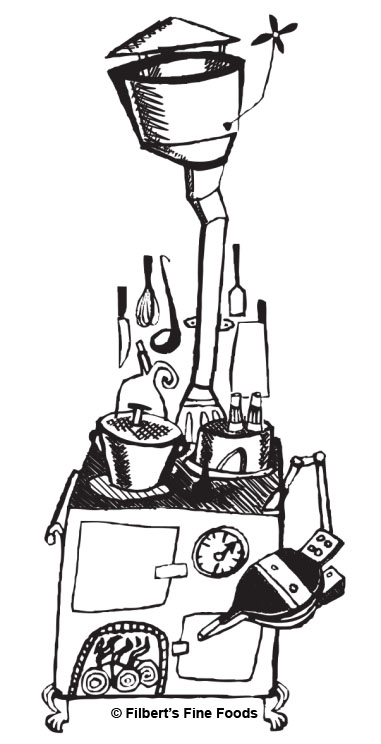 Sign up to receive our newsletter
For the latest producer info, shows, markets, recipes, competitions and more each month.
Please be assured that we don't sell or pass on your information to third parties.
Keep up to date with:
New and approved producers and produce
Offers, discounts, competitions and more
Seasonal produce and great tasting downloadable recipe ideas
Shows, events and markets