Seeded crackers are a fine taste of the Highlands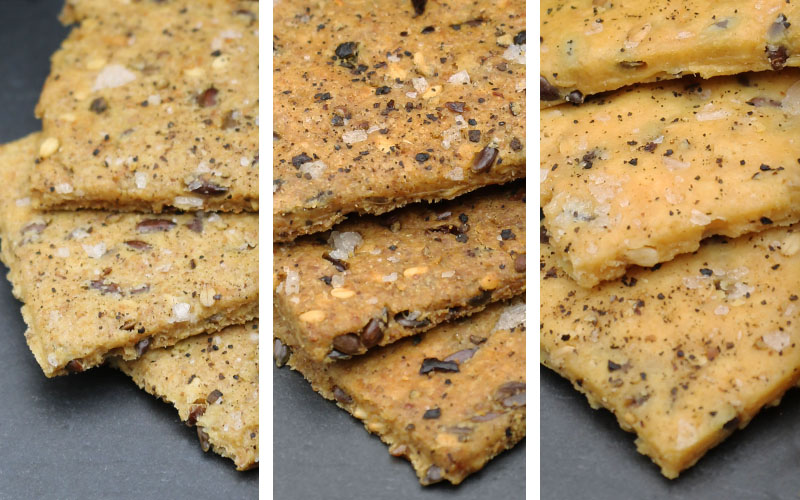 A cracker should be more than merely a vehicle to convey its topping into the mouth. A good cracker must enhance the flavour of whatever sits on top if it. Highland Crackers have created seeded crackers that are natty nibbles of the finest quality, taste and texture.
Born from a pursuit of passion for high quality food with provenance, Highland Crackers are the brainchild of Donna Peacock.
Donna is originally from Australia where she was surrounded by her family's orchard business, so it's of no surprise that she has a true appreciation for the finest produce.
Her move to Scotland lead her to continue sourcing the best ingredients on her doorstep.
The crackers are made with beremeal flour from the Orkney Islands. Beremeal is a type of ancient barley and has been grown in Scotland since 2000BC. Cold pressed rapeseed oil is also procured from a producer in Ross-shire.
Highland Crackers currently make three varieties, one of them being a free-from option for those who can't eat gluten or dairy.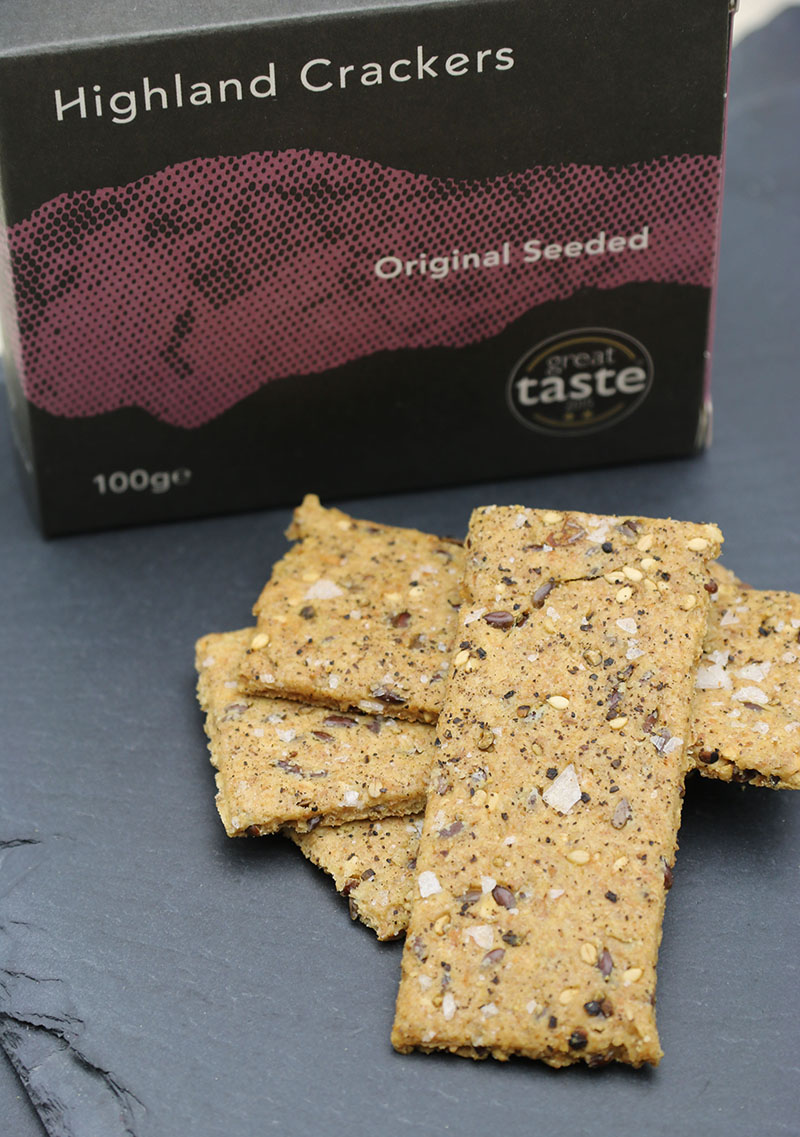 Original Seeded Crackers

The Original Seeded Crackers have a pleasant crispy and crumbly texture that is somewhere between a digestive biscuit and Scottish oatcake. The flavour from the beremeal and spelt flour is wonderfully nutty and a richness really comes through from the butter.
They are most definitely seedy being packed with tasty and nutritious linseeds, sesame, sunflower and pumpkin seeds.
A good amount of black pepper and sprinkling of sea salt add to the savoury sensation that really brings out the flavour of any accompanying cheese.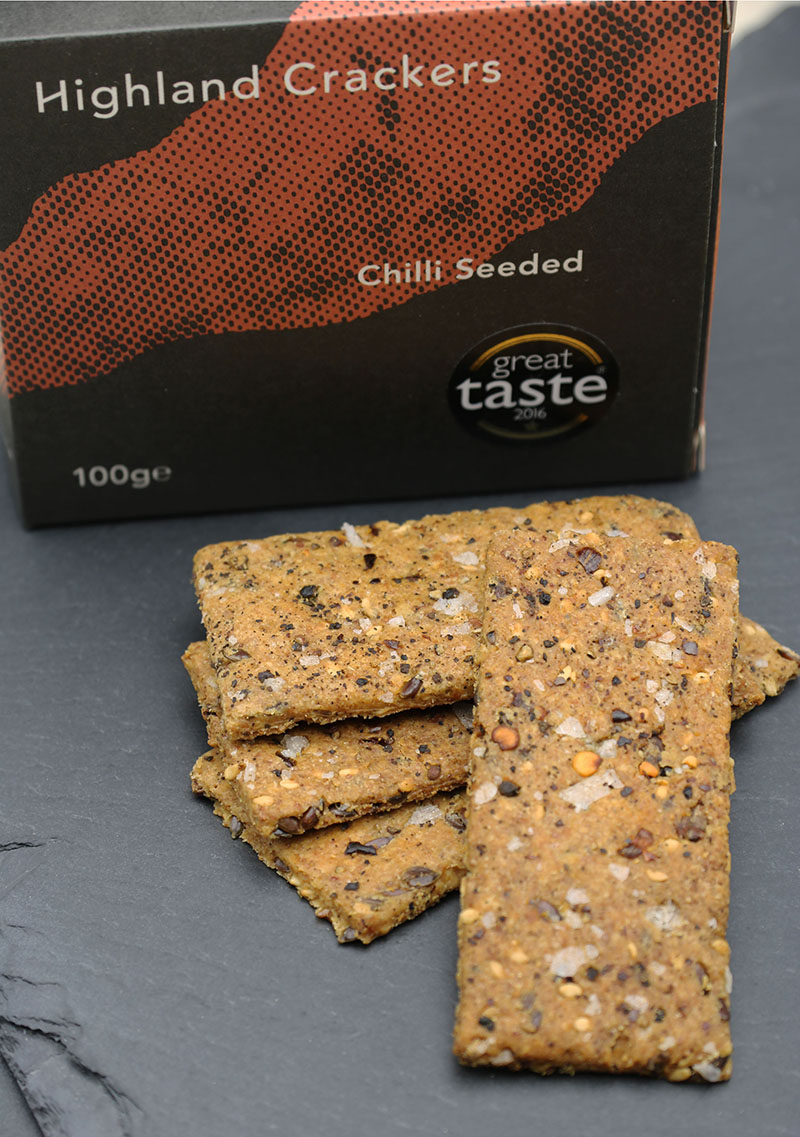 Chilli Seeded Crackers

These have all the plus points of the Original Seeded but with a kick of paprika and chilli flakes. As we enjoy spicy foods, we really love the Chilli Seeded Crackers for their gradually building heat. The first nibble is not so hot but after eating more, the sweet warmth is far more appreciable.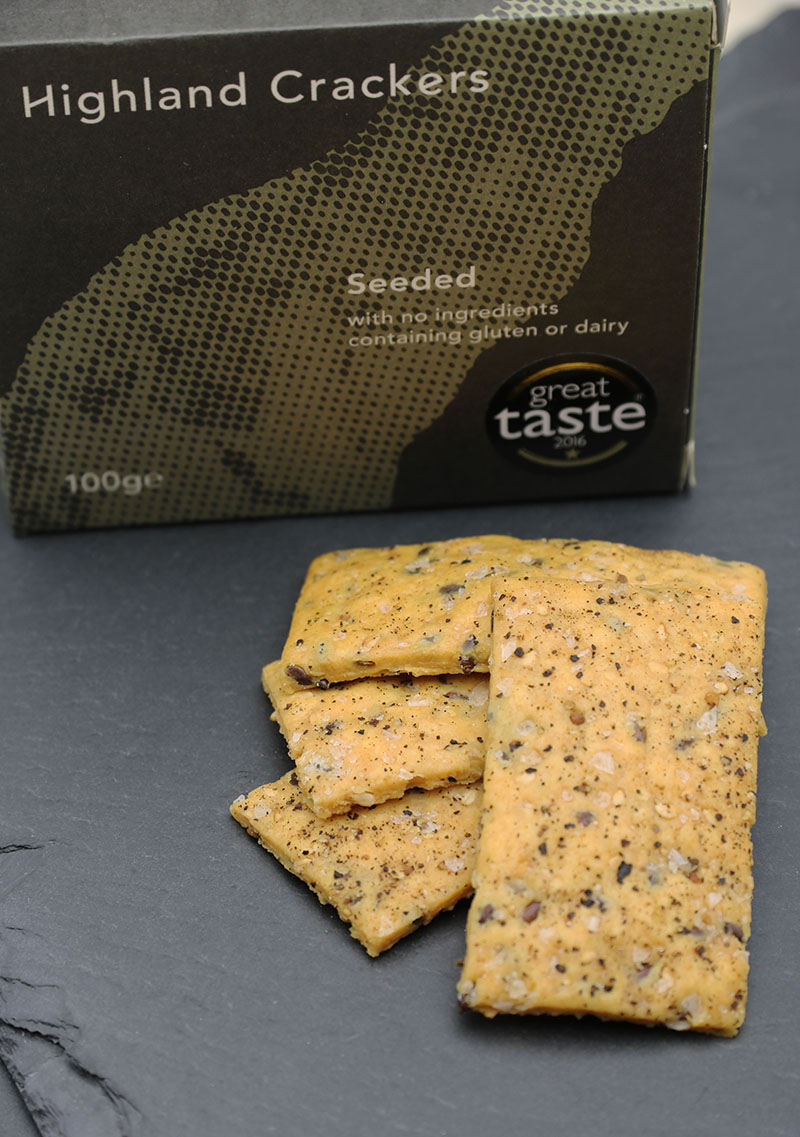 Seeded Crackers
For those who can't eat gluten or dairy, Highland Crackers have taken the time to create a special recipe for their Seeded Crackers.
Along with a gluten free four, gram (chickpea) flour is used and we like the particular flavour that it lends.
The texture is slightly harder with more snap than the other crackers but still good.
Linseeds and sesame seeds add a savoury nuttiness and the black pepper is very much to fore.
We enjoyed all the varieties of crackers and feel that they would be a very good addition to any decent cheeseboard.
The Original Seeded is great with a good tangy cheddar and Chilli is the perfect foil for anything creamy, perhaps a goat's cheese.
What's great about these crackers though, is that they are versatile enough to be eaten in a variety of ways. Dip them into hummus or serve alongside soup. They could even be crumbled into salads.
Join our Newsletter Email List
For the latest producer info, shows, markets, recipes, competitions and more each month.
Please be assured that we don't sell or pass on your information to third parties.
Keep up to date with:
New and approved producers and produce
Offers, discounts, competitions and more
Seasonal produce and great tasting downloadable recipe ideas
Shows, events and markets