IFE 2017: The Artisan Food Trail visits the event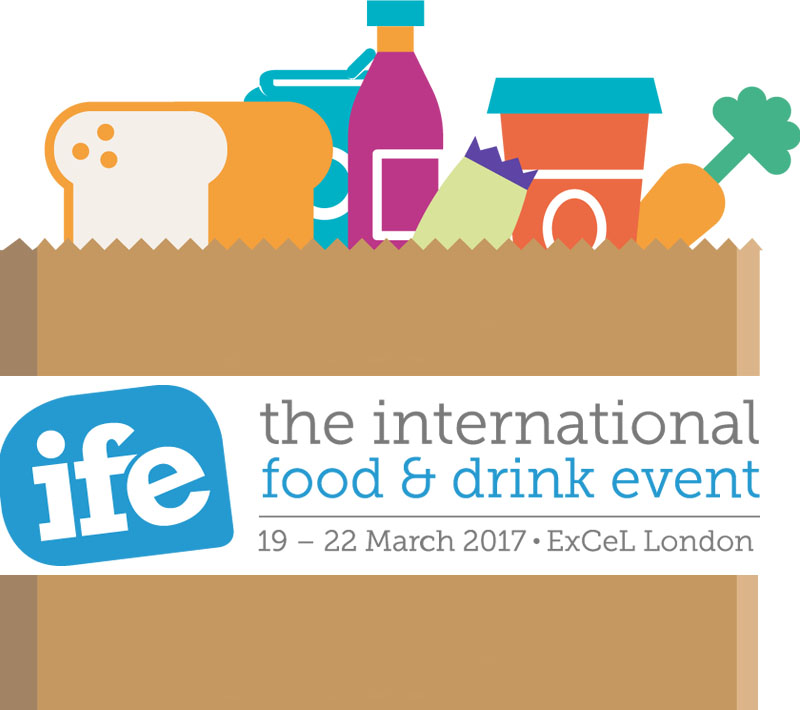 After The Artisan Food Trail visited the IFE 2017 trade event in London yesterday, we thought we'd give a little report of the show and tell you about why we go to a trade show as huge as this.
It is very much an international event with food and drink companies coming to exhibit from the United Kingdom as well as overseas looking to find buyers and useful connections.
Why we visit
The Artisan Food Trail likes to attend for various reasons, the main one being that it gives us the opportunity to meet some of our members in person. It is good to chat face to face and to keep in touch with what they are doing in their businesses.
Not only that, it also gives us the chance to understand what else we can help them with, their goals and also to listen to any feedback they may have about The Artisan Food Trail.
While it is always nice to receive praise for what we do, we are receptive to constructive criticism too, as hard as it may be to hear. The Artisan Food Trail is not about standing still and we are always thinking about ways to improve and move ahead, our evolving website being one of them.
Standing out against the big boys
The event is extremely diverse with companies big and small, all together. It sounds like it could be highly competitive. How could a micro business possibly stand out up against a larger company with lots more money behind it? However it had not deterred the sorts of businesses that we work with, entering into the arena, plus the event is reasonably set out to create areas for the smaller businesses to be together.
As for standing out against the big boys, there are a few things a small business needs, to convince a buyer that they should be stocking them.
You need to have a strong and clear brand, and that's not just your logo and packaging – it's the whole story.
You must know who you want to be buying your products and this will determine where they need to be sold. And, assuming that being in every supermarket from the outset, will make millions is probably unattainable at first. Think of one supermarket and aim for that.
These are, at least, two of the things we are always banging on about. If you want potential buyers to take you seriously, you've got to be serious about your brand.
Is IFE 2017 too big for the small guys?
Walking around the show, looking at the various stands we have seen some strong brands and met the enthusiastic people behind them which is heartening, but have to admit there were a few that seemed, perhaps not quite there yet with their branding. Perhaps it was too early in the development of their business to have exhibited at such a large event?
Okay, some people like to jump off in to the deep end but often baby steps are required – it's not so bad to be a little cautious.
A word of advice to small food producers: Think very carefully about where you choose to exhibit. It is a costly venture and you need to make sure it is absolutely right for your business and that you are ready. Of course the event's sales team are going to tell you that it would be perfect for you – it's their job.
On another note, some exhibitors seemed a little unapproachable and even prepared to let people just walk by. We all have off days and trade shows are tiring, but you have to try and project some positivity.
Pro2Pac
Another exhibition, Pro2Pac was adjacent to IFE 2017 and it played an important part in our agenda. The Artisan Food Trail is continually seeking out additional services and suppliers which would be helpful for our members. Packaging is one of those things that crops up time and again and we've been on a quest to find the right people to add to the member benefits.
Anything from print to labels, cardboard boxes to jars we're looking for the best materials from the best companies with, of course, the best prices.
We managed to have a chat with several companies, exchanged details and took away literature so we're looking forward to follow ups after the show.
As always, attending IFE has given us much to discuss, either in a hastily grabbed coffee break or in the car on the way home. It's at these times it reminds us of how passionate we are in continuing what we do. A noisy journey home is always a productive one.
As we post, there's still one more day left to go and the chance to meet several of our members.
Sign up to receive our newsletter
For the latest producer info, shows, markets, recipes, competitions and more each month.
Please be assured that we don't sell or pass on your information to third parties.
Keep up to date with:
New and approved producers and produce
Offers, discounts, competitions and more
Seasonal produce and great tasting downloadable recipe ideas
Shows, events and markets