Medlar preserves from a food revivalist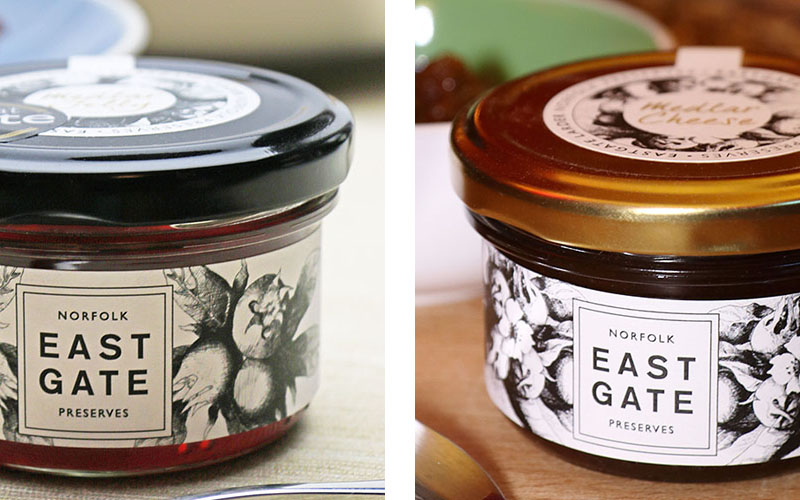 Let us introduce you to the delights of the medlar made into delicious medlar preserves by
Eastgate Larder.
We tried medlar cheese, not cheese of the dairy kind, but a thick fruity paste, and a beautiful clear medlar jelly. Both are interesting condiments to add to the larder being good accompaniments to other foods.
In the past, the medlar was a prized product gracing Tudor, Georgian and Victorian tables but as times and tastes changed it became an almost forgotten fruit.
Medlars are not particularly common these days as they are not widely grown and this makes them a rare treat.
Jane Steward of Eastgate Larder started growing medlar trees on her Norfolk smallholding in 2015 which she uses to hand make her medlar cheese and jelly. As demand increased for her preserves Jane realised she would need more fruit so her own crop is currently supplemented by Norfolk medlars sourced from keen growers. Keeping the supply local is very important to Jane who wants to retain her product's Norfolk provenance.
Medlars could be described as the ugly duckling of fruits. Looking rather like a deformed apple, which, incidentally, it is related to, the medlar transforms into a thing of beauty when fully ripe and used to make preserves. It may lose out in the looks department but it tastes rather wonderful.
The medlars are harvested in November after which they need to be bletted to make the fruit soft, sweet and palatable. Bletting is the process of ripening where the medlars are taken to what seems to be an over-ripe state but allows them to develop a full flavour and melting texture.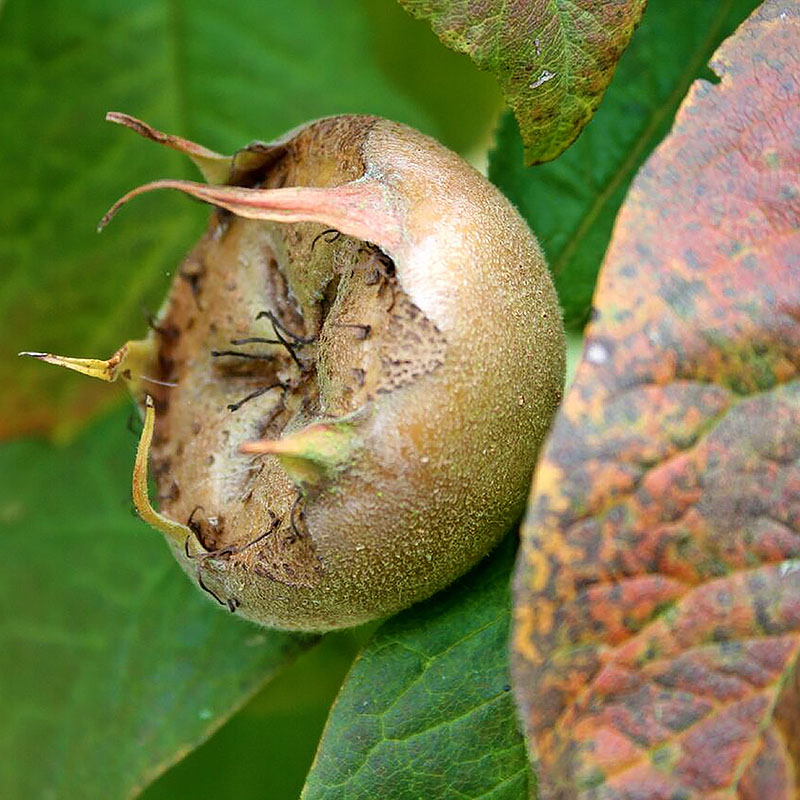 Eastgate Larder's medlar preserves tasted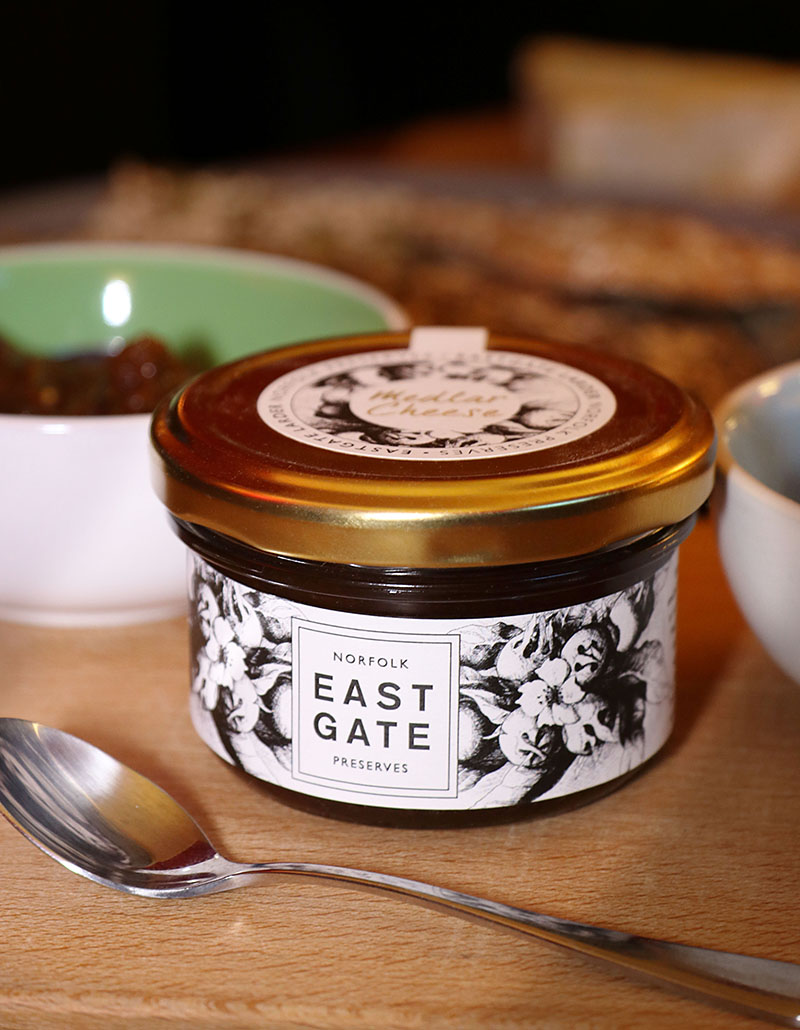 The Medlar Cheese is a firm set conserve, burnished reddish brown in colour with a honeyed aroma. The texture is wonderfully sticky and gooey – it takes a little work to scoop it out of the jar.
On first taste it is sweet and rich and at first elusively reminiscent of something we've tasted before. The flavour could be described as being similar to dates or dried figs but without any fibrous bits or seeds. There are also flavours of slow-baked apples and toffee.
Medlar cheese goes so well with full flavoured cheeses such as a sharp tangy cheddar or full-bodied blue cheese. It can also be enjoyed simply spread on to toast.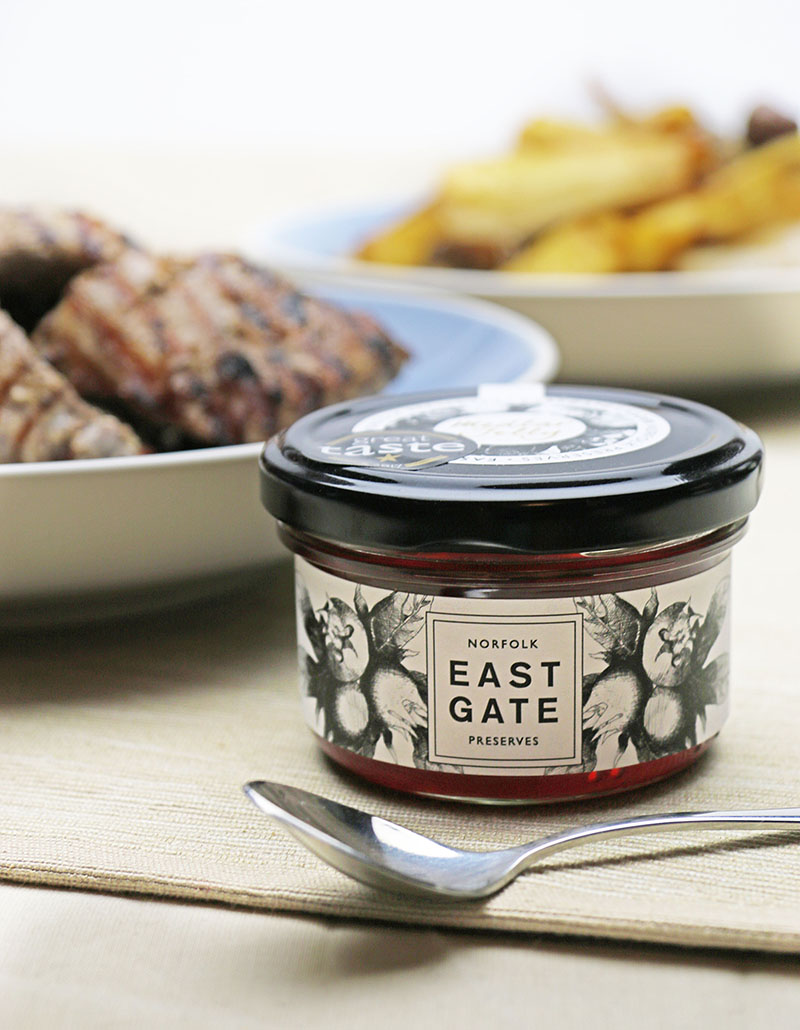 Wonderfully clear and jewel-like, the Medlar Jelly is a beautiful coral colour with a consistency that holds its shape when spooned from the jar.
Being a jelly somehow offers a whole different taste experience compared to the cheese. For one, it is lighter in texture and this seems to allow the more fragrant qualities of the fruit to come to the fore and the fruitiness is somewhat more akin to crab apple.
Medlar jelly is a fine companion to meats, especially game, particularly partridge and pheasant. It is also a good addition to the cheese board to complement soft cheeses.
After trying Eastgate Larder's medlar preserves we hope that Jane continues in her work to revive the medlar for more people to enjoy.
Sign up to receive our newsletter
For the latest producer info, shows, markets, recipes, competitions and more each month.
Please be assured that we don't sell or pass on your information to third parties.
Keep up to date with:
New and approved producers and produce
Offers, discounts, competitions and more
Seasonal produce and great tasting downloadable recipe ideas
Shows, events and markets