New looks and new lines from Fudge Kitchen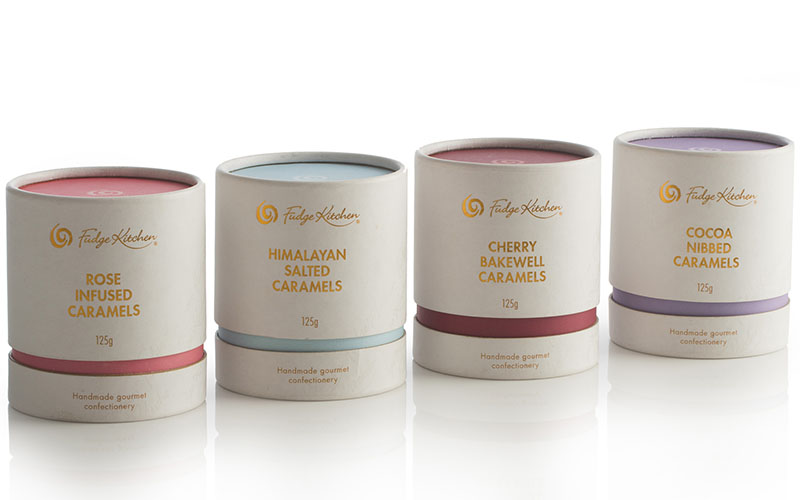 It's new looks and new flavours from
Fudge Kitchen
who are unveiling their repackaged range of 'Delectables'. The products include handmade caramels and brittles, some dairy-free, plus they've added five new lines of confectionery; Lemongrass & Chilli Brittle, Sunflower &, Pumpkin Seed Brittle, Rose Infused Caramels, Cocoa Nibbed Caramels and Chocolate Nut Pavé.
Potential stockists who are interested can see and sample them for the fist time at the London trade show, IFE from 17th – 20th March 2019 on stand N3328.
Fudge Kitchen have picked up on developing trends from vintage to vegan to East Asian flavours, all gorgeously repackaged in luxury gift boxes, drawing on an elegant, chalky, pastel palette.
The brittles and pavés are boxed beautifully, decorated in contemporary colours and finished with satin ribbon hangers for premium gifting appeal.
The packaging for the caramels is equally appealing being made from luxury, heavy-weight card. Two cylinders are telescoped together and colour coded in contemporary pastels. They're as ingenious as they are beautiful and could be used for something else once emptied.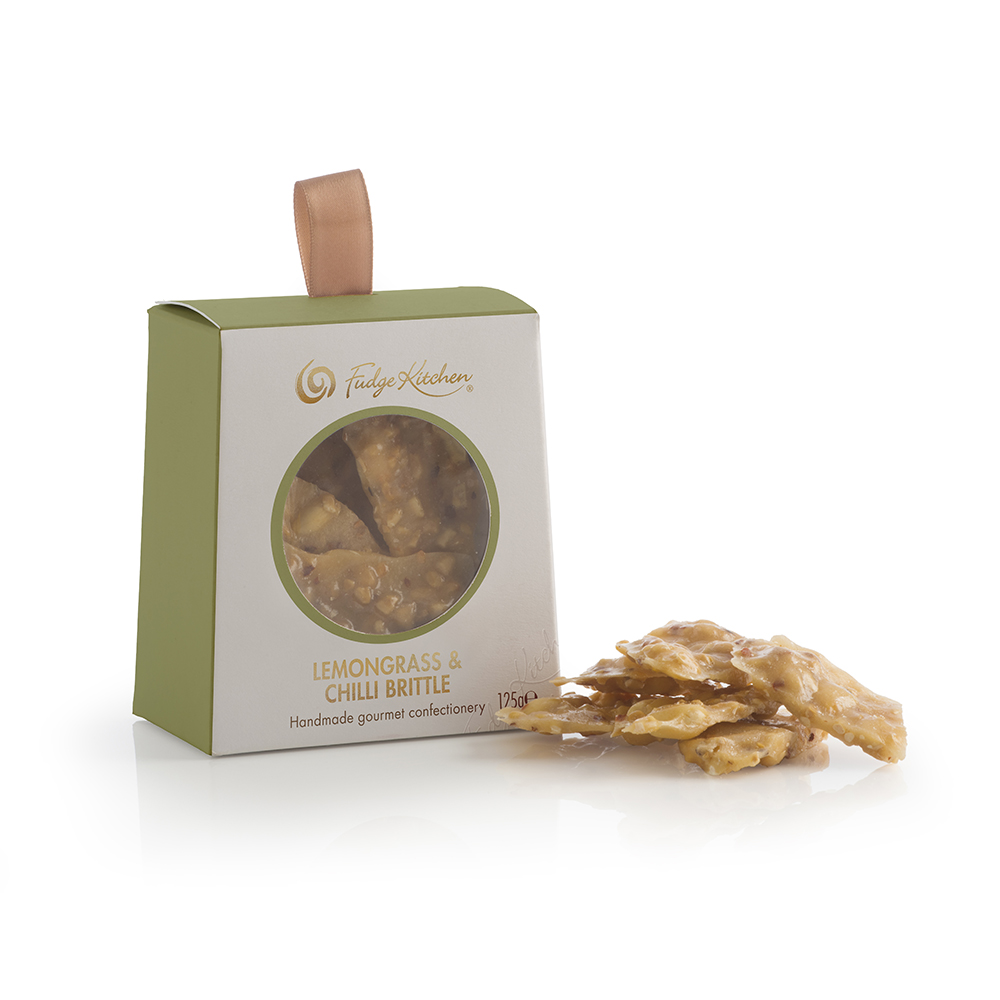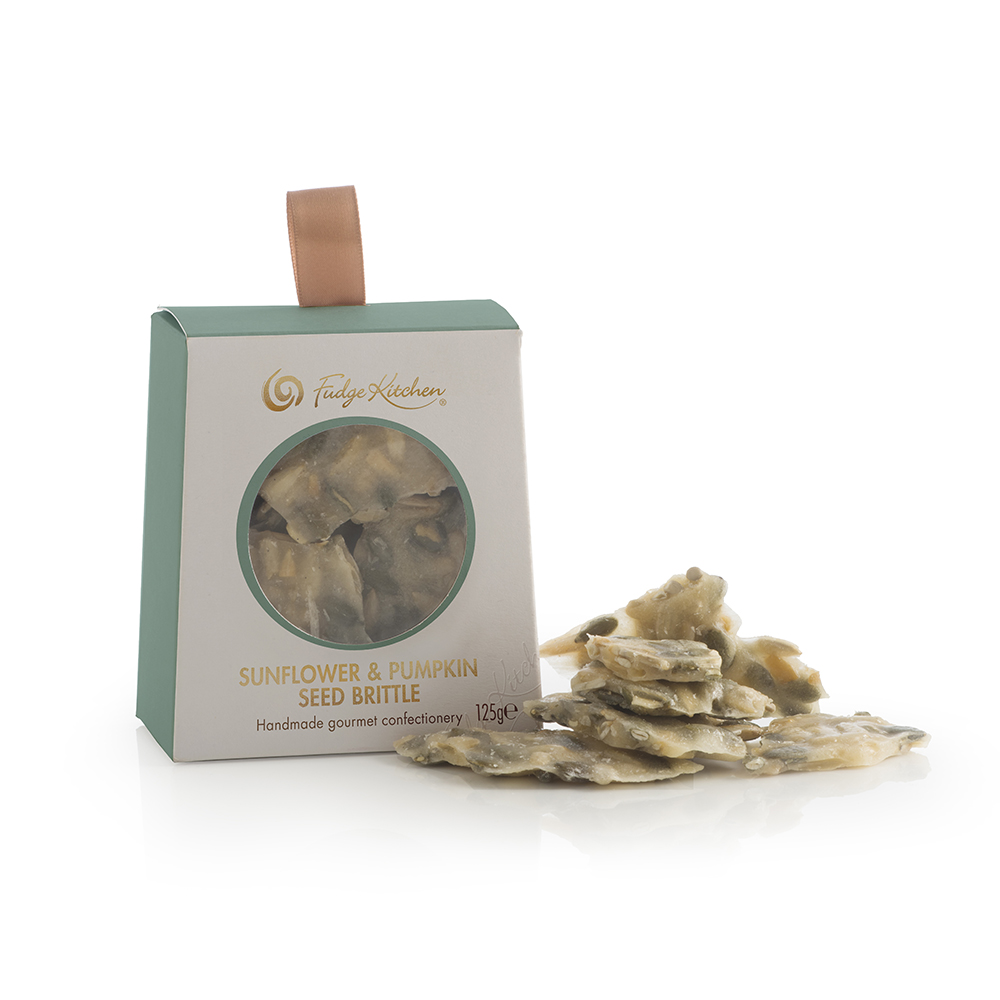 NEW:

Lemongrass & Chilli Brittle

A classic East Asian combo inspired by Thai cuisine. Crisp, sweet brittle, infused with Madagascan Vanilla Bean paste, is balanced by the subtle citrus tang of lemongrass oil and finished off with a fiery after-kick of chilli flakes. Sweet comfort with a spicy twist.
Peanut Brittle
A Great Taste Award winner, this sweet brittle is packed with
whole, crunchy, nibbed peanuts and finished with rock salt. An absolute
classic sweet-salt pairing.
NEW:

Dairy Free Peanut Brittle

Packed with nibbed peanuts and finished with rock salt. It's made with a homemade 'butter' from a secret Fudge Kitchen recipe, including emulsified coconut oil and soya milk, making this dairy free and vegan friendly too.
NEW:

Chocolate Nut Pavé

Generous squares of a light, buttery, toffee base, laced with crunchy, nibbed peanuts and topped with a layer of milk chocolate.
NEW:

Pumpkin & Sunflower Seed Brittle

Naturally dairy free, this is sweet caramel brittle mixed with roasted pumpkin and sunflower seeds for a savoury crunch and a natural pop of protein.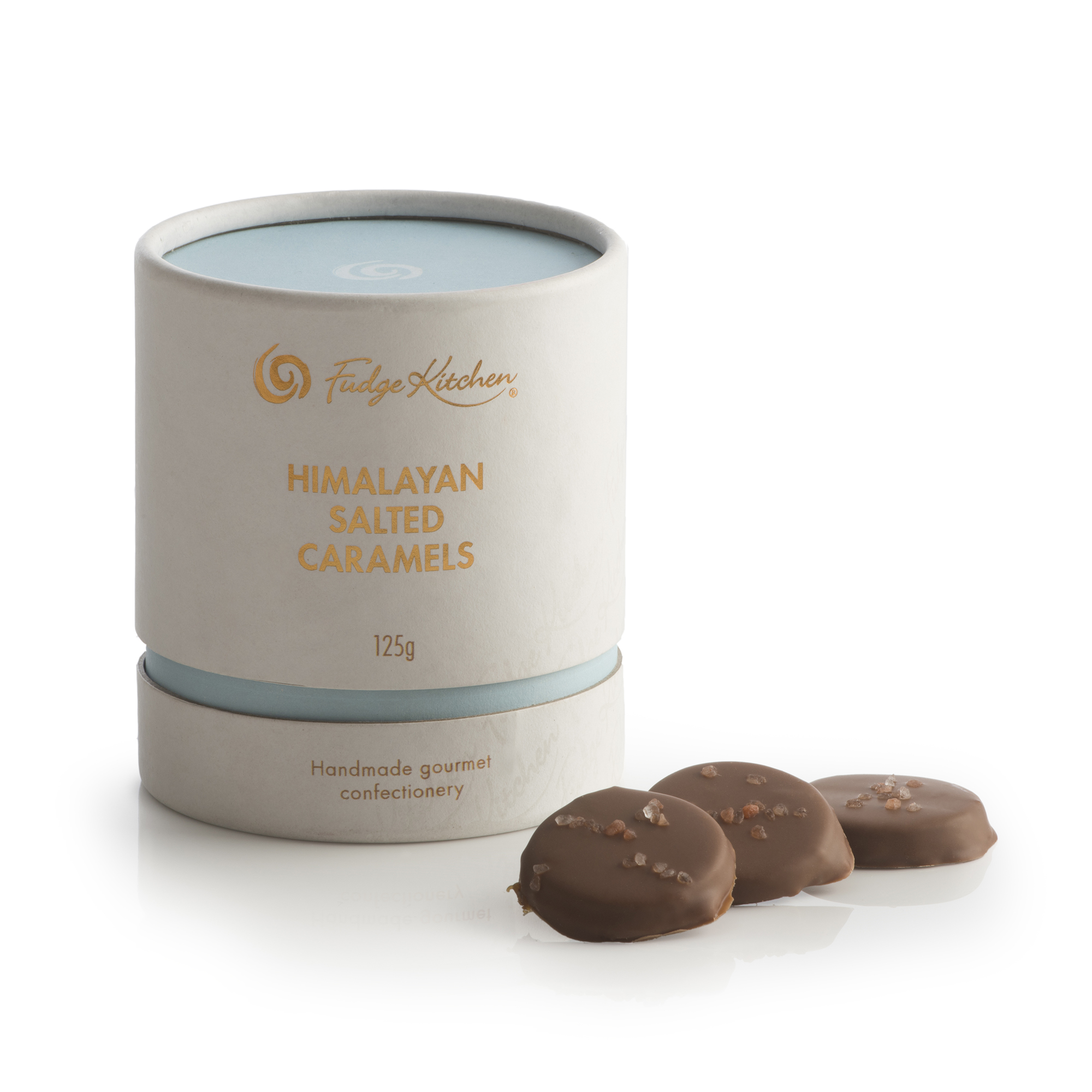 Himalayan Salted Caramels
A Himalayan Salt & Madagascan Vanilla infused smooth caramel, enrobed in milk chocolate and hand-decorated with Pink Himalayan salt crystals. Crunch v Creamy, Salt v Sweet.
NEW:

Rose Caramels

Creamy caramel infused with a rose hint of the Middle East, all wrapped in thick milk chocolate and hand-decorated with real crystallised rose petals.
NEW:

Cocoa Nibbed Caramels

Chocolate flavoured caramel, enrobed in milk chocolate and hand-decorated with crunchy cocoa nibs. Enough cocoa going on there for you?
Cherry Bakewell Caramels
A tribute to a legend of Great British baking that replicates that winning combination in smooth, soft caramel infused with almond, topped with a sour morello cherry and covered in thick milk chocolate.
All of these delectable confections will be available from April 2019 from the Fudge Kitchen website  plus selected stockists.
Sign up to receive our newsletter
For the latest producer info, shows, markets, recipes, competitions and more each month.
Please be assured that we don't sell or pass on your information to third parties.
Keep up to date with:
New and approved producers and produce
Offers, discounts, competitions and more
Seasonal produce and great tasting downloadable recipe ideas
Shows, events and markets