Enter the Small Producer Quality Food Awards 2018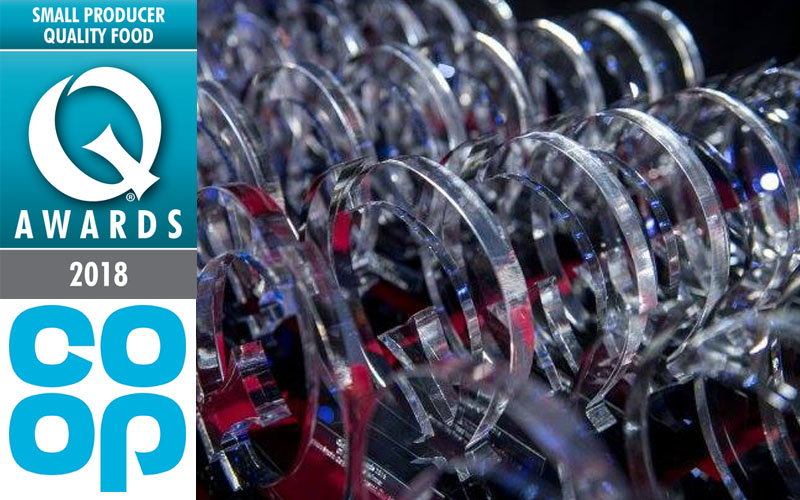 The Artisan Food Trail has teamed up with The Quality Food Awards, not only to be part of their judging panel, but to tell you why you should enter your products into the Small Producer Quality Food Awards.
The Artisan Food Trail will also be on the judging panel again for this year's prestigious award and food and drink producers have until 15th June 2018* to submit their entries. (The deadline has been extended – see footnote!)
Holding a prestigious position, The Small Producer Quality Food Awards are a unique collaboration between the Co-op and The Quality Food Awards.
They provide a great platform for small producers to fly their flag and showcase the passion, ideas, innovation and creativity behind many locally loved products.
This really is 'The Moment' for British Food; smaller producers are leading the way in terms of innovation, and these awards are a celebration of British local and artisan food and drink.
The Quality Food Awards are the food and drink industry's most prestigious product awards. Described as 'the Oscars for food producers and retailers', the awards have been around for almost 40 years. The blue Q is recognised as a mark of quality wherever it is seen.
Why enter Small Producer Quality Food Awards?
It is the chance to get your products in front of respected independent industry judges and, as a small producer, get an opportunity to ensure that buyers from the Co-op see your entry. If shortlisted, you get to present your product to them in person.
Every entry into the Small Producer Quality Food Awards also gets valuable feedback from the knowledgeable judging panel to help with product development.
The Artisan Food Trail said:
"We're looking forward to judging at this year's Quality Food Awards and being part of an event which gives small food and drink producers a chance to really shine in what can be be an overcrowded marketplace."
Aren't these awards just for the big boys?
It may be natural to assume that the awards are just for the big brands and supermarkets – but not at all. There is a dedicated Small Producer entry channel that has huge benefits for businesses that have fewer than 10 staff and annual sales no greater than £2 million.
Small producers, will get extra support from the awards partners. The Co-op are partnering with Quality Food Awards to find new local suppliers and award winners will get a listing at the Co-op. There's no expectation to supply the entire nationwide supermarket, the Co-op will work with small producers to supply their Co-op to the level that they can comfortably do so.
Shortlisted small producers get a detailed consumer marketing report from VYPR and receive media training on how to present at a 'Dragons' Den' style presentation to Co-op executives. On that day, finalists will also have a chance to have a pop-up stand at the Co-op headquarters atrium – a great opportunity to meet buyers and senior executives.
Finally, the shortlisted finalists will enjoy mingling with the great and the good of the UK food and drink industry at the awards ceremony at Grosvenor House Hotel, London, on 1 November 2018.
Details of the benefits of winning are on the Quality Food Awards website here.
How much does it cost to enter?
Other awards may be cheaper but they don't have the same prestige as Quality Food Awards. The Q is much harder to earn and is not as common as other logos on pack. It is a real mark of differentiation between you and your competitors.
Plus, as a small producer, you get a huge £339 saving on each entry. The small producer fee is just £125 + VAT (standard entry fee is £464 + VAT).
For some tips on submitting your entry read our article: Impressing the Quality Food Awards judging panel.
Where do I enter?
Visit uk.qualityfoodawards.com this link will take you to the Small Producer page with information on how to enter and to get your Small Producer Entry Discount.
*UPDATE! The deadline for entries has been extended to 6th 

July

 2018
Photos: © The Quality Food Awards
Sign up to receive our newsletter
For the latest producer info, shows, markets, recipes, competitions and more each month.
Please be assured that we don't sell or pass on your information to third parties.
Keep up to date with:
New and approved producers and produce
Offers, discounts, competitions and more
Seasonal produce and great tasting downloadable recipe ideas
Shows, events and markets