Meet Artisan Food Trail members exhibiting at the Speciality & Fine Food Fair 2018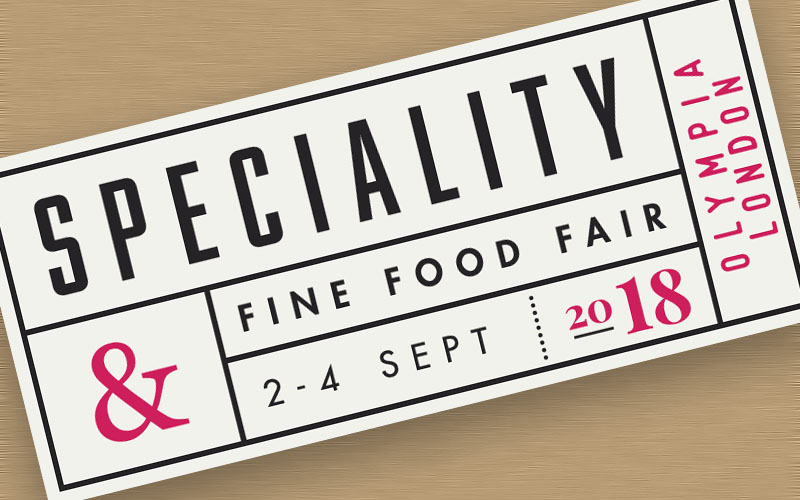 Described as an industry event designed as a food festival, Speciality & Fine Food Fair 2018 provides opportunities for independent retailers, delicatessens, chefs, hoteliers, restaurateurs, importers, distributors and wholesalers looking to add to or improve their offering.
They can meet face to face with a vast number of artisan food and drink suppliers some of whom are members of The Artisan Food Trail.
Speciality & Fine Food Fair 2018 takes place from 2nd – 4th September at Olympia in London and condenses a year's worth of product sourcing in to three days all in one venue.
The Artisan Food Trail invites visitors to meet its members at the show.
They are:
Since 2010, Filbert's fine Foods have developed new and exciting combinations of flavours from around the world. Being both healthy and original in taste they satisfy a niche market craving fine quality snacks
A premium confectionery brand specialising in luxury handmade fudge, caramels, brittles and more. Proud to hold 15 Great Taste Awards and celebrating 35 years of fudge innovation in 2018.
Artisan producers of wild venison charcuterie based in the highlands of Scotland. Range of cured and smoked products: Salami, Chorizo, Pepperoni, Smoked Venison and Bresaola.
Spice Drops® are ethically produced concentrated natural extracts of spices, herbs, flowers, retaining the authentic taste and goodness of the raw spices. Available in 30+ flavours, and gift collections.
Producers of hand crafted salt cod, Bacalao/Bacalhau which is a premium product for discerning customers. Using only cod from MSC accredited sustainable Shetland stocks, landed on Shetland by small, family owned boats.
The UK's leading supplier of fresh truffles and truffle products. All are hand made in small batches in the Cotswolds. Products include truffle oils, truffle mustard, truffle mayonnaise and truffle salt.
Join our Newsletter Email List
For the latest producer info, shows, markets, recipes, competitions and more each month.
Please be assured that we don't sell or pass on your information to third parties.
Keep up to date with:
New and approved producers and produce
Offers, discounts, competitions and more
Seasonal produce and great tasting downloadable recipe ideas
Shows, events and markets