Unwrap the Gift of Flavour with Curry Spice Kits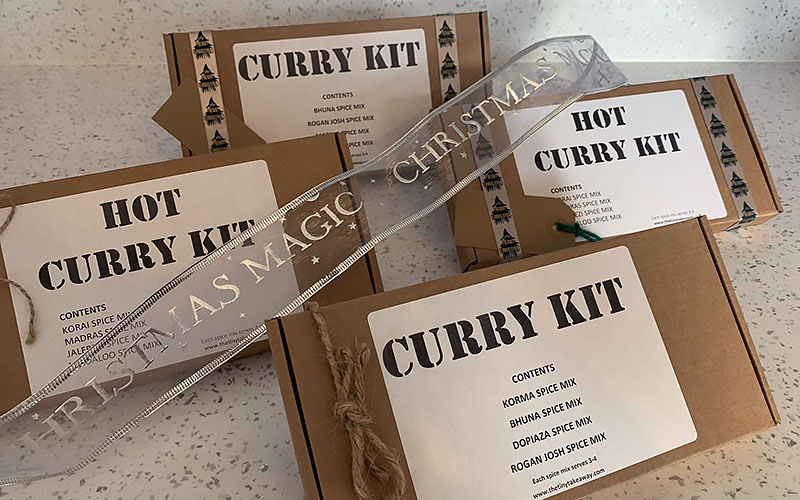 If there's a curry lover in your life, there is the perfect present that will make their taste buds dance with delight. The Tiny Takeaway's Curry Spice Kits Gift Box is a culinary adventure waiting to be unwrapped. Inside this unassuming package lies a world of flavour, just waiting to be discovered.
The Tiny Takeaway prides itself on delivering an authentic and homemade experience, and their gift box packaging is no exception. Its rustic charm serves as a reminder that this is a labour of love, handcrafted to perfection. In a world obsessed with glitz and glamour, sometimes it's the simple, personal touch that truly makes a difference. And with these curry spice blends, it's what's inside that counts.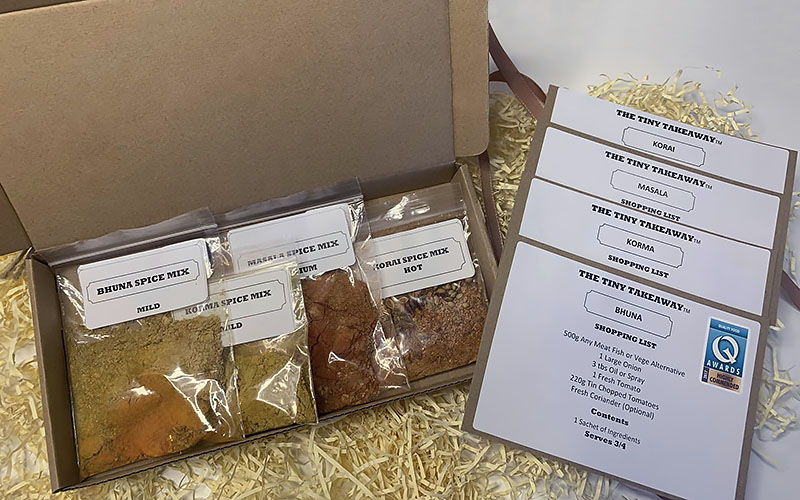 Prepare to embark on a sensory journey like no other, as The Tiny Takeaway's Curry Spice Kits introduce you to a symphony of flavours.
Each kit contains a quartet of carefully crafted spice blends, designed to make your homemade curries extraordinary.
The spices are at their freshest best, ensuring a burst of vibrant flavour that will elevate your cooking to new heights.
With the festive season just around the corner, these spicy kits make for the perfect gift. Whether you choose The Tiny Takeaway's recommended selection or curate your own combination, your loved ones will be in for a culinary treat.
What's in the standard curry spice kits?
Bhuna
Delight in a mild Bhuna, where a blend of six ground spices mingles with just a hint of chilli. It's a flavour journey you won't want to end.
Rogan Josh
Allow nine whole and ground spices to sweep you off your feet with their mouthwatering combination. You'll savour every bite.
Jalfrezi
For the daring spice enthusiasts, the Jalfrezi boasts ten whole and ground spices that come together to create an deliciously hot and spicy curry. If heat is your passion, this is your curry.
Spicy Tatties
Five simple ingredients transform potatoes into fiery chunks of delight. Serve them as a starter or alongside your curry; either way, you're in for a treat.
Or choose your own spice mixes
Alternatively, mix and match any four kits to suit your taste and preferences. Your choice is as unique as your palate. Just indicate your selection in the 'order notes' during checkout.
Each sachet of ingredients is designed to serve 3-4 people, ensuring you have plenty to share with friends and family.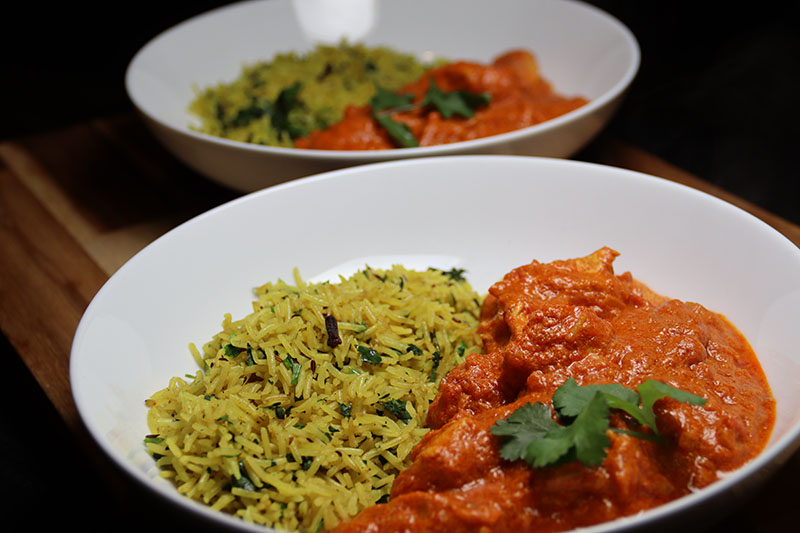 The Tiny Takeaway is your go-to destination for quality ground and whole spices, already expertly hand-mixed for your convenience. Each bag comes with a straightforward shopping list and an easy step-by-step recipe. There's no need for grinding, grating, or crushing – it's all in the bag, ready to go! You can rest assured that only authentic, fresh ingredients are used.
With The Tiny Takeaway's spicy kits, you can create meat, fish, or vegetarian curries that will satisfy between three and four people in no time at all. The result is an authentic, delicious, and healthy curry experience that you can savour in the comfort of your own home.
So, why wait? Give the gift of culinary exploration, or treat yourself to a delectable adventure with The Tiny Takeaway's Curry Spice Kits. Quality, taste, and enjoyment are guaranteed in every bite. Unleash the magic of curry and savour an unforgettable dine-in experience.
Find out more about The Tiny Takeaway on The Artisan Food Trail
Sign up to receive our newsletter
For the latest producer info, shows, markets, recipes, competitions and more each month.
Please be assured that we don't sell or pass on your information to third parties.
Keep up to date with:
New and approved producers and produce
Offers, discounts, competitions and more
Seasonal produce and great tasting downloadable recipe ideas
Shows, events and markets