Fudge Kitchen's Christmas Grotto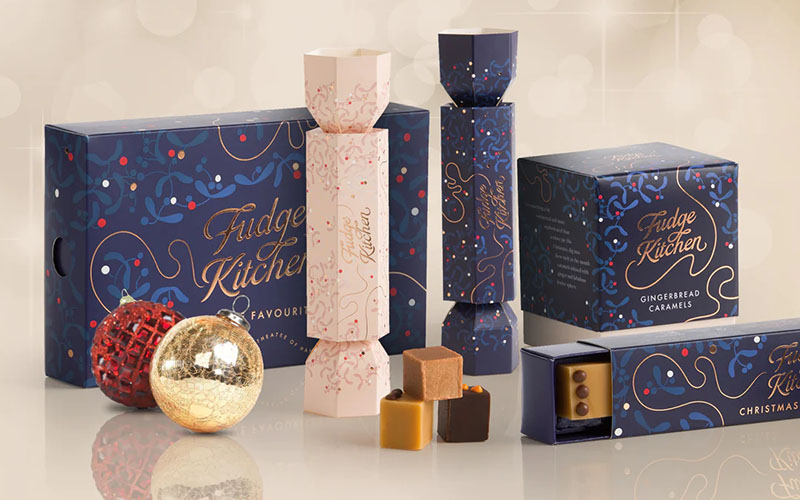 The festive season is upon us, and it's time to pamper your loved ones with a truly enchanting delight. Look no further than Fudge Kitchen's online Christmas wonderland for a treasure trove of exquisite, handmade fudge gifts that will have your taste buds dancing with festive joy. Whether you're on a quest for the perfect gift for a friend, a family member, or simply a little indulgence for yourself, rest assured, there's something to delight everyone. Immerse yourself in the enchanting world of Fudge Kitchen and unwrap the gift of fudge this Christmas.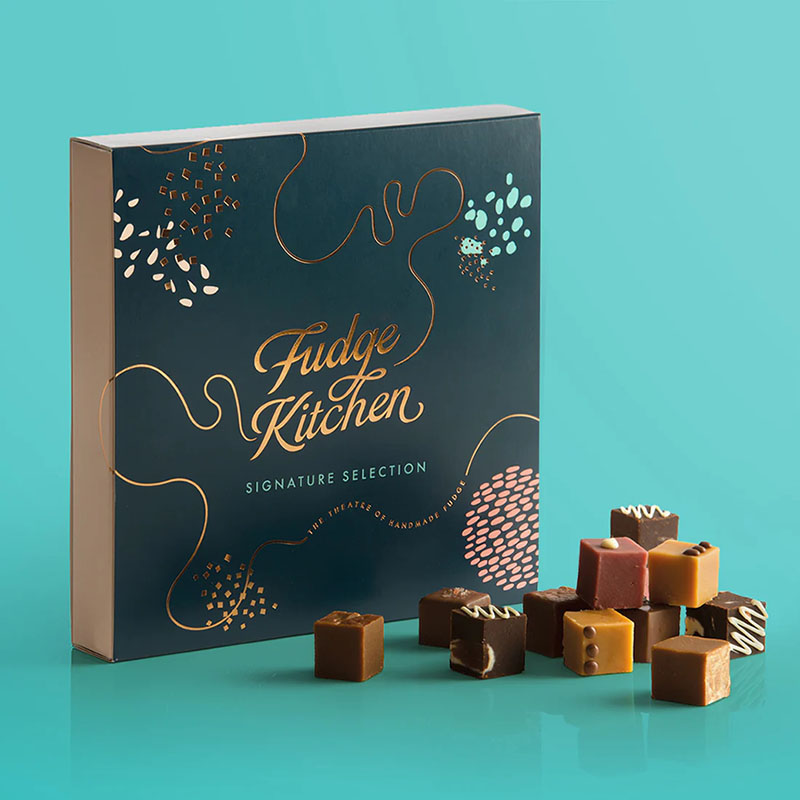 Signature Selection 25 Piece
To fudge or not to fudge? It's a question that practically answers itself when you set eyes on the Signature Selection. Within this elegant box lies a trove of 25 generous pieces of Fudge Kitchen's most acclaimed, award-winning, and unmistakably British fudge flavours. Each piece, a handcrafted masterpiece, is cradled in a luxurious presentation box, making it the quintessential gift to commemorate any occasion. Add a touch of personal flair by sealing it with a customised message.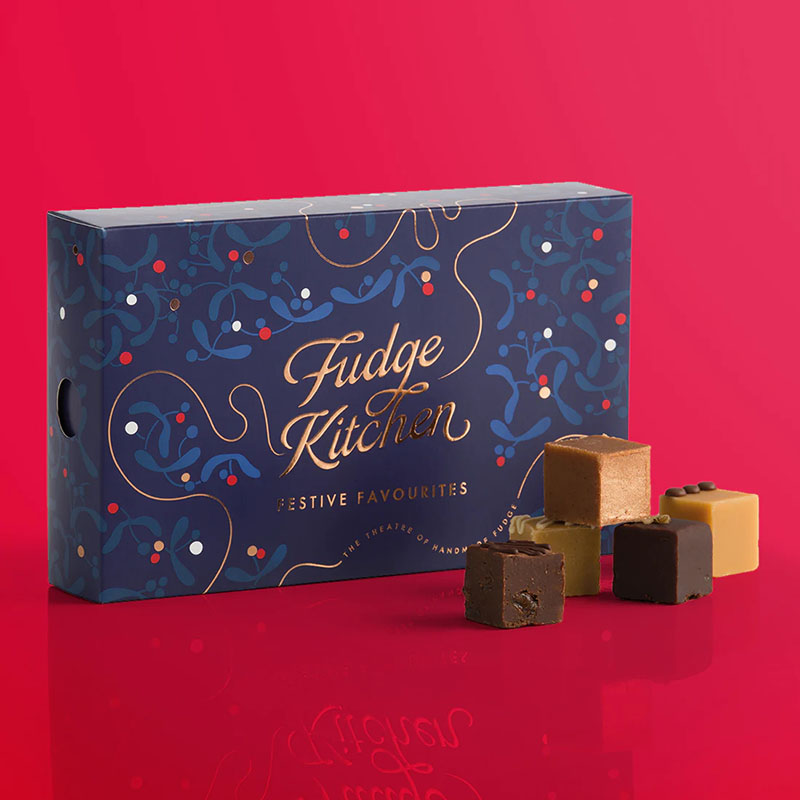 Festive Favourites
For a festive fudge experience that's bound to ignite the Christmas spirit, look no further than the Festive Favourites. This delightful box showcases five flavours, including the elegant Speculoos, the irresistible Salted Caramel, the luscious Chocolate Fruit & Nut, and, of course, the seasonal classics, Christmas Pudding and Mince Pie. Remember, 'tis the season of goodwill, so don't hesitate to share the joy!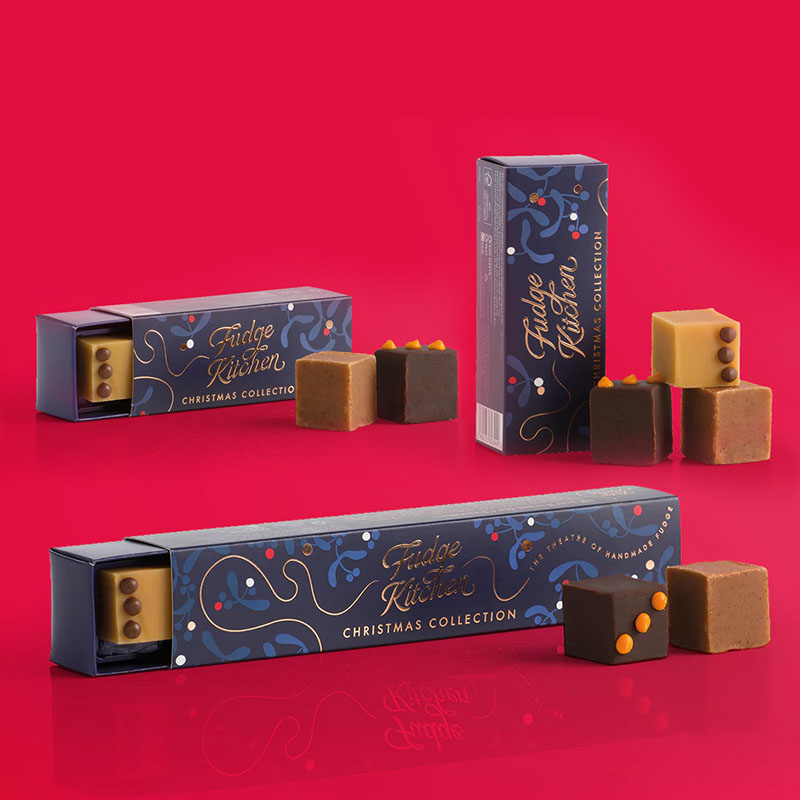 Christmas Fudges Slider Selection
Brighten up your holiday festivities with a delightful Christmas Fudges Slider Selection and Trio Slider. This selection brings together three enchanting flavours: the sophisticated Speculoos, the absolutely moreish Salted Caramel, and the all-time favourite, Chocolate Orange. These sliders offer the perfect way to embrace the season with supremely creamy, handcrafted fudge. They make for an ideal Secret Santa gift, a charming addition to Christmas stockings, or simply a small token of seasonal gratitude.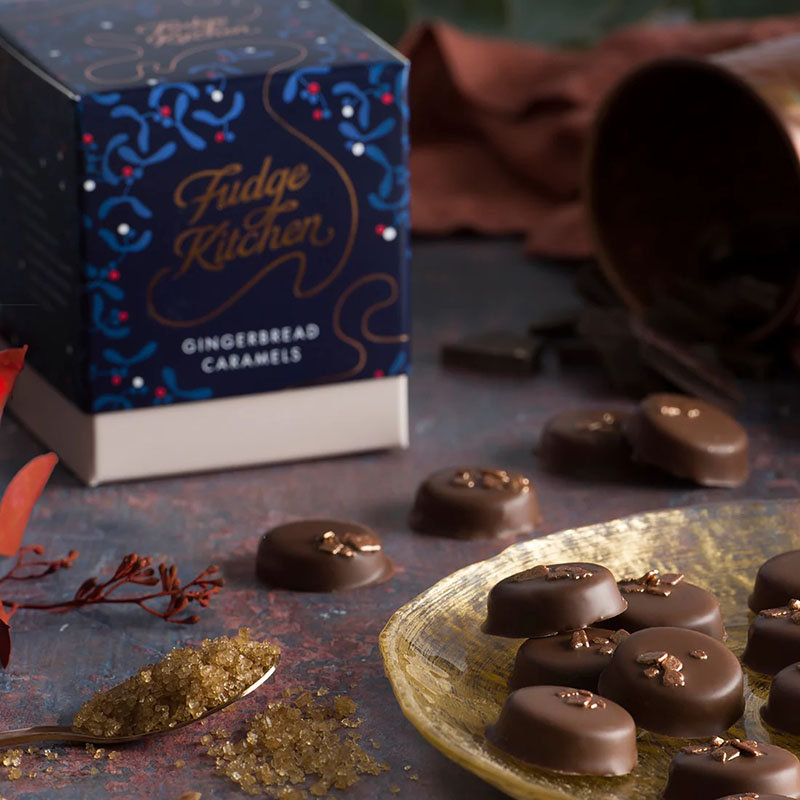 Gingerbread Caramels
For a sophisticated alternative to the traditional mince pie this Christmas, indulge in some handmade Gingerbread Caramels. These delectable caramels are a melting sensation, infused with the warm flavours of ginger and fabulous festive spices. Enjoy these festive spiced caramels, generously coated in velvety milk chocolate and adorned with bronze-dusted chocolate flakes for an extra touch of luxury.

Fudge Loaves
Ensure your table is graced with these substantial 850g delights. Each of these fudge loaves is not just a treat for the palate but also a visual delight, adorned with exquisite decorations and designed to be sliced and served. These loaves make for striking table centrepieces and thoughtful gifts for discerning confectionery enthusiasts. Every fudge loaf is a labour of love, meticulously crafted by skilled artisan fudge makers, ensuring a premium gourmet experience. Presented in a sleek black tray and clear wrapper, they are the epitome of indulgence. Whether you opt for the classic Clotted Cream, the sweet and tangy White Chocolate & Raspberry, or the rich and chocolaty Double Trouble, be prepared for a delectable journey for your taste buds.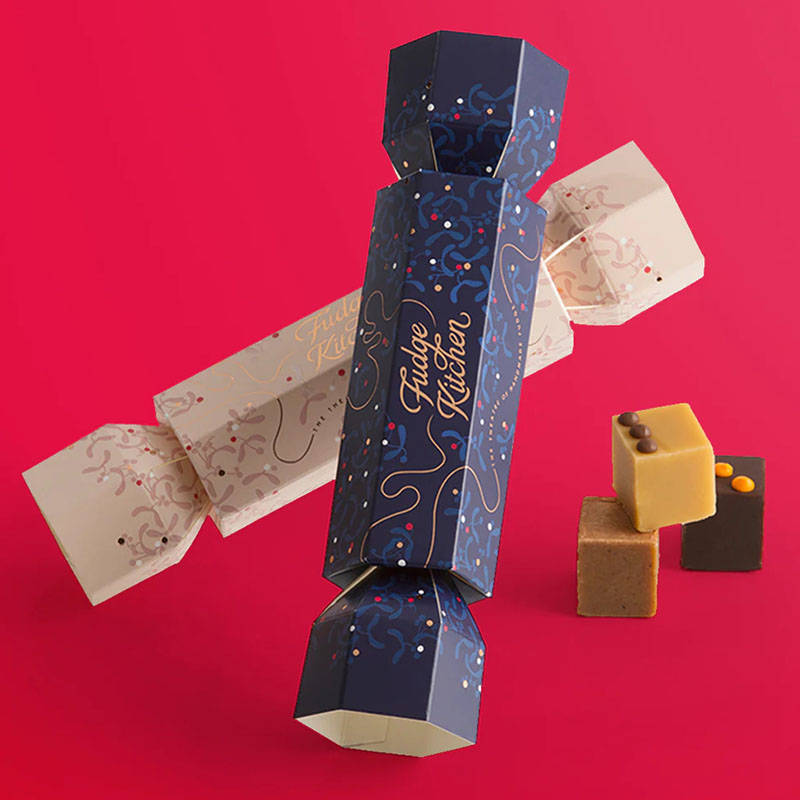 Christmas Crackers
These luxury fudge Christmas Crackers, adorned with a festive design, are petite pockets of sweetness that fit perfectly into a stocking. Hang them on your Christmas tree, slip them into stockings, or nestle them among the poinsettias. You have the choice of either an indigo or buff cracker-shaped box, each designed to reveal three generous squares of genuine, handmade fudge. Crafted by the UK's oldest fudge specialist, expect nothing but the finest quality.
With flavours like Sea Salted Caramel, Chocolate Orange, and Speculoos, these crackers bring the joy of the season without the need for silly hats. Plus, the cracker boxes are not permanently sealed, allowing you to add your personal messages inside if you wish.

Fudge Kitchen Gift E-Vouchers
Sometimes, the best gift is the gift of choice itself. Delight your loved ones with Fudge Kitchen's gift e-vouchers, giving them the power to curate their own fudge-filled adventure. From velvety classics to daring flavour escapades, their artisanal fudge collection is just the beginning of a treasure trove that extends to an array of delectable treats to cater to every palate.
Fudge Making Experience – Gift Vouchers
Select the perfect fudge-making experience for your fortunate giftee. The Digital Instant Gift sends an email voucher, containing all the information needed to book the experience, on any day of your choice. For a tangible gift, choose the Gift Voucher, presented in an embossed envelope and including a luxury set of information postcards. Both options offer a unique and unforgettable experience, complete with a fudge-making demonstration, flavour sampling, and the opportunity to take home two 3-slice boxes of your favourite fudge.
Find out more about Fudge Kitchen on The Artisan Food Trail
Sign up to receive our newsletter
For the latest producer info, shows, markets, recipes, competitions and more each month.
Please be assured that we don't sell or pass on your information to third parties.
Keep up to date with:
New and approved producers and produce
Offers, discounts, competitions and more
Seasonal produce and great tasting downloadable recipe ideas
Shows, events and markets