A coffee collaboration and new flavours from conscious chocolate company, Coco Pzazz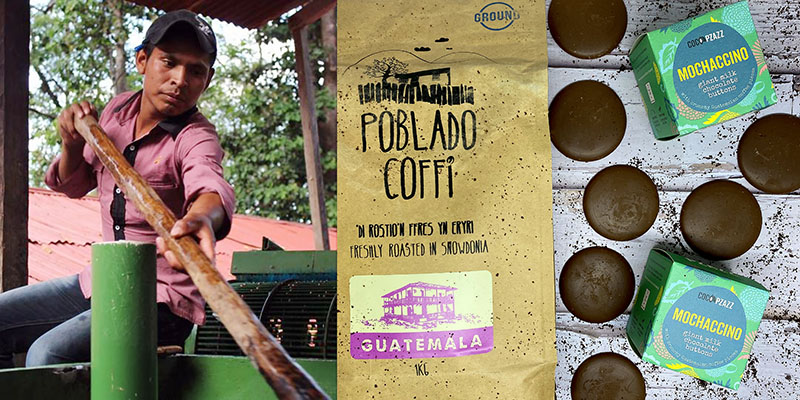 Giant chocolate buttons with a coffee crunch
Welsh chocolate makers, Coco Pzazz have collaborated with a fellow business creating a delicious combination to delight coffee lovers everywhere.
Their silky-smooth milk chocolate is given an added dimension with the extra crunch of Guatemala coffee, roasted in Wales' beautiful Snowdonia landscape.
Coco Pzazz's Mochaccino Chocolate Buttons are still one of their best sellers to date and not only that, the giant coffee flavoured buttons won a 1-star Great Taste award in 2018.
Here at The Artisan Food Trail, we found out how good they tasted when we were lucky enough to put them through our own approval process.
Thanks to their friends at Poblado Coffi, who are based in Nantlle, overlooking the stunning Snowdonia valleys, Coco Pzazz is able attain ethically sourced coffee which is beautifully balanced with malic acidity and a rich syrupy body.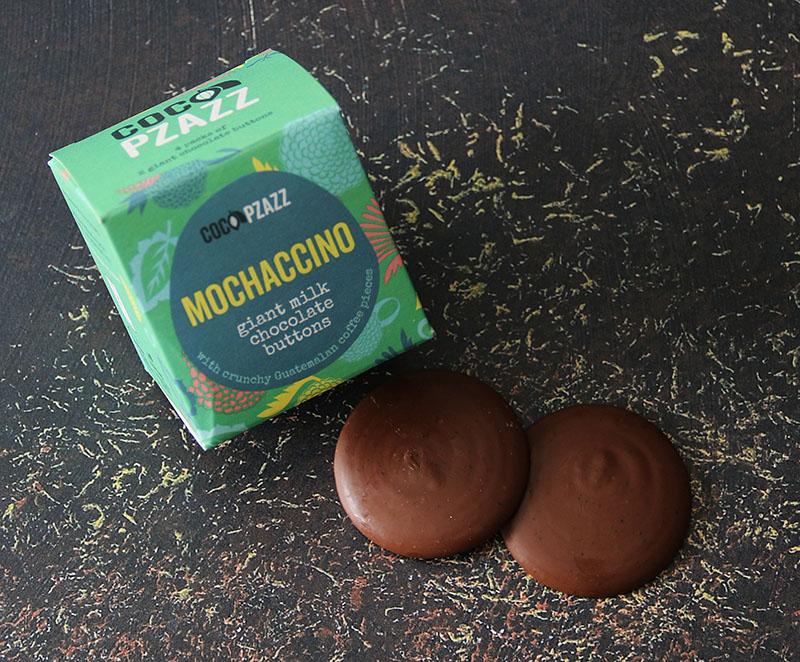 Poblado Coffi work closely with suppliers all over the world who maintain the same ethical views as Coco Pzazz. The Guatemala coffee used in the Mochaccino Buttons comes from a farm (Finca La Bolsa) in La Libertad, Huehuetenango. The farm sits between two mountains allowing them to get the right balance and taste which comes through perfectly in the chocolate buttons.
La Bolsa is Rainforest Alliance certified and follows Coffee and Farmer Equity (C.A.F.E.) guidelines, meaning they conform to the three production methods of sustainability: social, economic, and environmental and have measures in place to ensure these are consistent.
Four exciting new flavours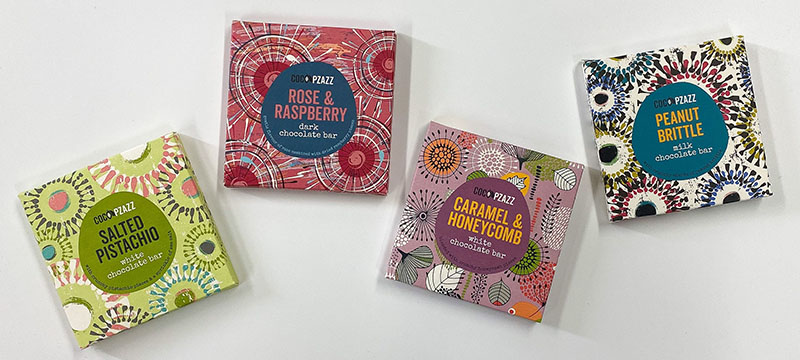 Coco Pzazz is constantly dreaming up new flavour ideas to pair with their high quality chocolate and keep their creations vibrant and exciting.
Recent additions to the Coco Pzazz chocolate bar range include Rose and Raspberry, Caramel Honeycomb, Peanut Brittle and Salted Pistachio. Each flavour has been specially paired with milk, dark or white chocolate and wrapped in environmentally friendly packaging.
Every box carries new signature eye-catching artwork and the colourful design evokes flavours of the chocolate within.
Coco Pzazz Rose and Raspberry Dark Chocolate Bar
A 55% minimum cocoa solids rich dark chocolate with a gentle flavour of rose and dried pieces of raspberry.
Coco Pzazz Caramel Honeycomb White Chocolate Bar
Crunchy honeycomb pieces in amber white chocolate, with a soft caramel flavour and hints of vanilla.
Coco Pzazz Salted Pistachio White Chocolate Bar
Crunchy pistachio pieces smothered in creamy white chocolate and topped with a sprinkle of sea salt.
Coco Pzazz Peanut Brittle Milk Chocolate Bar
A smooth milk chocolate with added shards of crunchy peanut brittle.
These new varieties are now available to buy online from the Coco Pzazz website and make ideal gifts.
Small changes, big impact
Helping the environment has become more important than ever and Coco Pzazz has made it a central part of how they operate. In the past few years they've taken great steps to achieving this.
In 2019 they launched their Tread Lightly Programme and since then, with a dedicated workforce and by putting the environment at the heart of everything they do, Coco Pzazz have been able to bring about even more.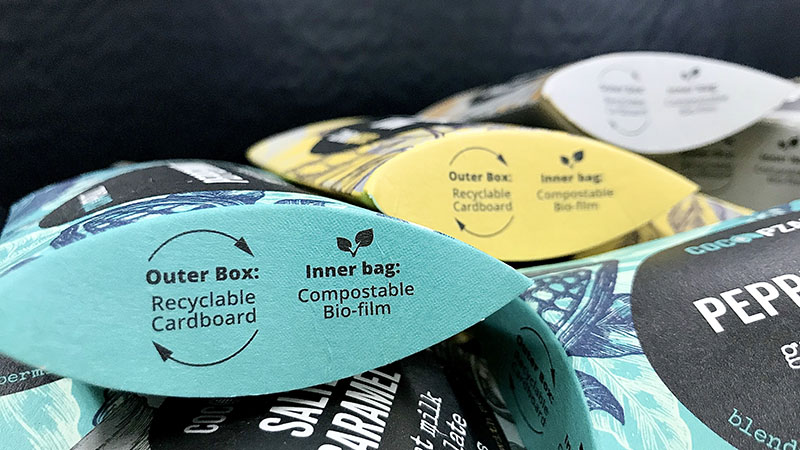 All packaging is plastic free, using compostable biofilm instead and card boxes made from FSC board. All UK trade deliveries are carbon neutral, energy used in their units comes from 100% renewable sources and they are committed to a zero to landfill policy.
Their choice to use only sustainably grown chocolate was tremendously pertinent as well as working with and supporting chocolate growing communities in Ghana and Ecuador with micro loans and other direct support.
Find out more about Coco Pzazz on The Artisan Food Trail
Sign up to receive our newsletter
For the latest producer info, shows, markets, recipes, competitions and more each month.
Please be assured that we don't sell or pass on your information to third parties.
Keep up to date with:
New and approved producers and produce
Offers, discounts, competitions and more
Seasonal produce and great tasting downloadable recipe ideas
Shows, events and markets