Traditional Taste: Free range turkey on test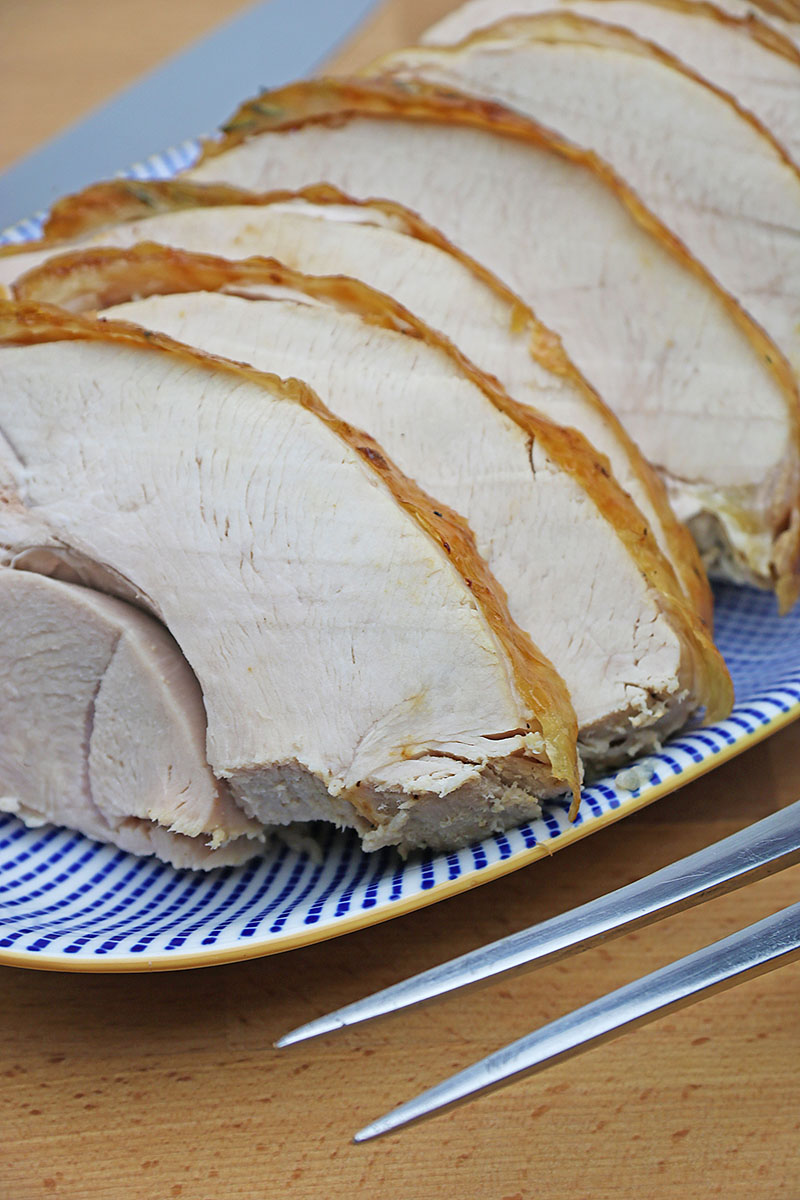 Christmas can be stressful enough for most of us, what with all the presents to find and wrap, not forgetting someone on the card list and then there's the food preparations to be made.
The one time of year when you just want everything to be perfect and get it right, especially if you have certain 'difficult' family members, you feel the celebratory meal has to be faultless.
A big turkey is a traditional choice but has gathered an unfortunate reputation for being bland and dry. Not what you want on the day when no amount of gravy is going to rectify the situation.
Christmas delivered
Christmas came early for us this year as we were delivered a turkey to try from Morton's Traditional Taste from Norfolk. To be honest it did engender feelings of trepidation as we don't usually have one, there being just the two of us.
When the courier dropped off the rather large and heavy insulated box, we knew it was going to be big.
Morton's sent us one of their frozen turkeys, presumably from the previous year's flock, as their current livestock are still in the final stages of being fattened for the table.
The turkey was indeed huge and required a bit of muscle to manhandle it. This must have been a greedy beast with a very healthy appetite!
Preparation time
Morton's rear both Bronze and Norfolk Black turkeys and judging by its size, ours was a Bronze, the Black being naturally smaller at maturity and also longer in shape.
So how best to cook this bird? Wanting to do justice to all the hard work and time put into producing a fine free range turkey, which Morton's promises to be flavoursome and moist, we decided to get the knives out and remove the legs and wings.
Granted it may not make a fantastic centrepiece presentation but it does make it easier to cook the meat to perfection. By roasting the breast and legs and wings separately, the method gets around the problem of parts of it drying out before others are cooked properly.
Going back a little, it was noted how there was no 'funny' smell on first taking the turkey out of the polythene bag. We've noticed an odd odour with some poultry bought from certain shops and most likely attributed to its freshness.
Get the oven on
On with the roasting. Morton's guides you through the process in their handy booklet which comes in the box. Advice on storage, preparation, cooking and even a delicious stuffing recipe all gives more confidence in being able to achieve good results and avoid any food safety mishaps.
We followed the suggested oven temperatures and tips on cooking the turkey, breast side down, for half the time. This allows all the juices to run into the breast meat keeping it moist. Just turn the turkey on to its back for the remaining time to get a lovely burnished skin.
We opted to roast the turkey simply so we could really taste the meat, so that meant no onions, garlic or herbs to distract from the final flavour. Of course, when cooking for Christmas Day, include these as they all add to the pan juices for your rich gravy.
As pointed out in Morton's guide, oven temperatures do vary so our advice is to get a meat thermometer. These come in either a 'pop-up' format, which you leave inserted into the meat whilst cooking, or a probe which you insert to check now and again. All poultry should reach a temperature of 74C (164F) and the juices run clear.
We think it's probably one of the best kitchen gadgets to own. Not only you can be sure your meat is cooked safely but it also prevents you from making the mistake of over cooking – something best avoided when it comes to turkey.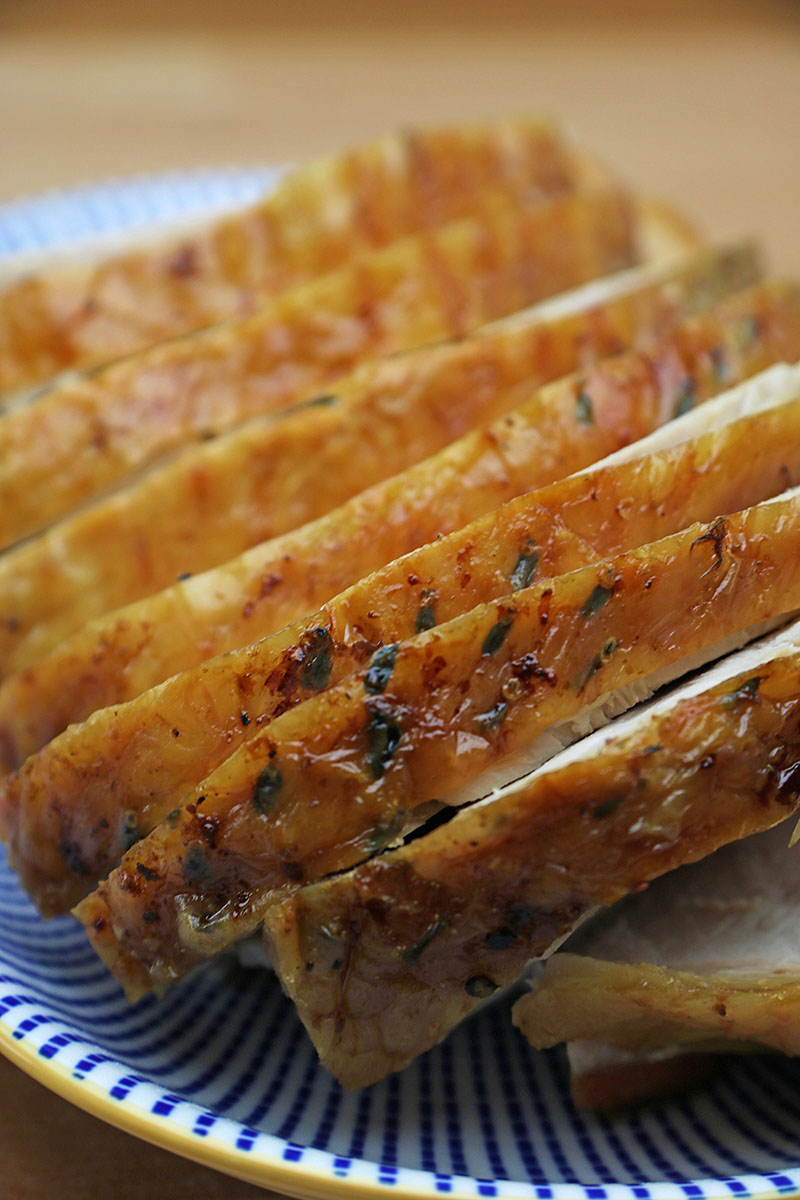 Rest and serve
Once the turkey was cooked we took it out of the oven and allowed it to rest for a good thirty minutes or so. This is essential to help retain all the juices. If you start carving right away, the liquid will just spurt out!
We removed each breast as whole single pieces to make carving easier. This way it can be placed on a board for slicing and cut across the grain of the turkey meat. Carving across the grain ensures that the meat fibres are short making for a tender texture. If you've ever eaten turkey that was all stringy and chewy, that's because it was cut with the grain – not good.
We were pleased at how well this turkey carved, it was already so tender and above all succulent. The legs and wings are substantial enough to be carved also or they can be pulled apart.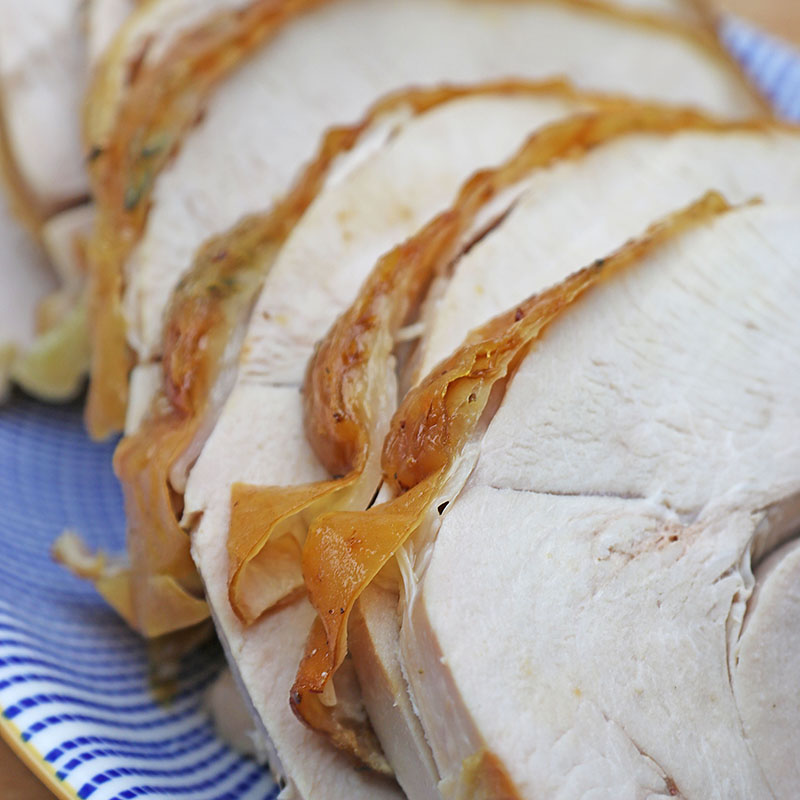 How did it taste?
Put it this way, there's no going back to bland after you've tried a free range, slow grown, pampered bird. And if you've vowed never to eat 'boring' turkey again, then at least try one like this.
No doubt the breed makes all the difference as does the careful rearing and the final game hanging that Morton's gives each bird to maximise on flavour.
The breast meat was full flavoured, the dark meat even more so and the texture was dense yet yielding. All that exercise the turkeys get while happily running around their field In Norfolk most definitely contributes to the consistency of the meat.
A top turkey indeed!
How can I get one?
Thanks to the wonders of the internet you can order your fresh turkey online direct from Morton's Traditional Taste. Visit their website for details.
If you're nearby you can pick up your turkey at the farm gate or have it delivered in time for Christmas.
Cold turkey aka turkey leftovers
Let's face it, there's always going to be leftover turkey, but that doesn't mean you need to be eating cold turkey sandwiches for days on end.
There's lots you can do with it to make whole new meals. Just make sure, once the turkey has cooled enough, to get it into the fridge as soon as possible. The best thing to do, is strip all the remaining meat from it and put into a covered container/plastic box.
Cooked turkey can also be bagged up into portions and frozen. Refrigerated turkey should be used in 3-4 days and frozen turkey used within 2-3 months.
We have a fair few ideas for the leftover turkey so have a look at The Artisan Food Trail recipe section for suggestions.
Sign up to receive our newsletter
For the latest producer info, shows, markets, recipes, competitions and more each month.
Please be assured that we don't sell or pass on your information to third parties.
Keep up to date with:
New and approved producers and produce
Offers, discounts, competitions and more
Seasonal produce and great tasting downloadable recipe ideas
Shows, events and markets