Join in a celebration of Suffolk's thriving food and drink scene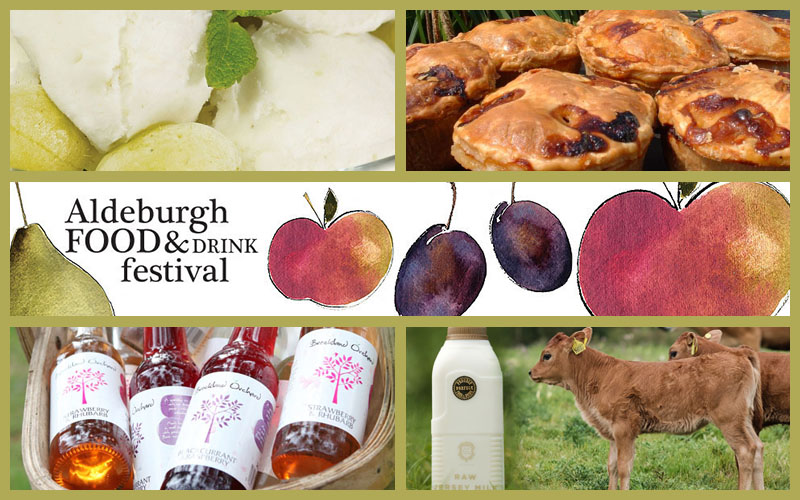 Aldeburgh Food & Drink Festival takes place in the beautiful setting of Snape Maltings on 29th – 30th September.
With over 100 food and drink producers from Suffolk, many from just a few miles away, all gathered to sell their produce including raw milk, organic vegetables, sourdough bread, award winning beer and spirits and delicious street food.
The Festival is truly family friendly with free tickets for under 15s with free children's activities and hands on cooking workshops.
Not only is there an amazing array of local produce but the festival also has cookery demonstration stages hosting visiting and local chefs.
The Aldeburgh Food & Drink Festival is the place to find fine food and drink companies including some Artisan Food Trail members. The majority come from Suffolk and some from neighbouring counties all offering the best local produce.
Over the weekend there's an impressive line-up of guest chefs and culinary professionals, ready to share their knowledge and skills. Names to look out for are Thomasina Miers, Melissa Cole, Sophie Michel, Druv Baker and Galton Blackiston.
Plus there's live music, The Family Meadow, hands-on cooking for kids and an amazing range of specialities in the food courtyard.
The Artisan Food Trail members that will be there are:
Serving delicious hand made cream ices bursting with juicy flavours packed with real fruit from their own farm. More…
Makers of sparkling soft drinks known as 'posh pop'. Made with spring water combined with refreshing flavours. More…
Old Hall Farm
This micro-dairy produces raw 'moo friendly' milk products from their herd of Jersey cows that keep their calves at foot.
Tasty products from pork pies to sausages all made with rare breed pork raised naturally on their smallholding.
Sign up to receive our newsletter
For the latest producer info, shows, markets, recipes, competitions and more each month.
Please be assured that we don't sell or pass on your information to third parties.
Keep up to date with:
New and approved producers and produce
Offers, discounts, competitions and more
Seasonal produce and great tasting downloadable recipe ideas
Shows, events and markets