Seggiano Raw Basil Pesto is deliciously vegan and versatile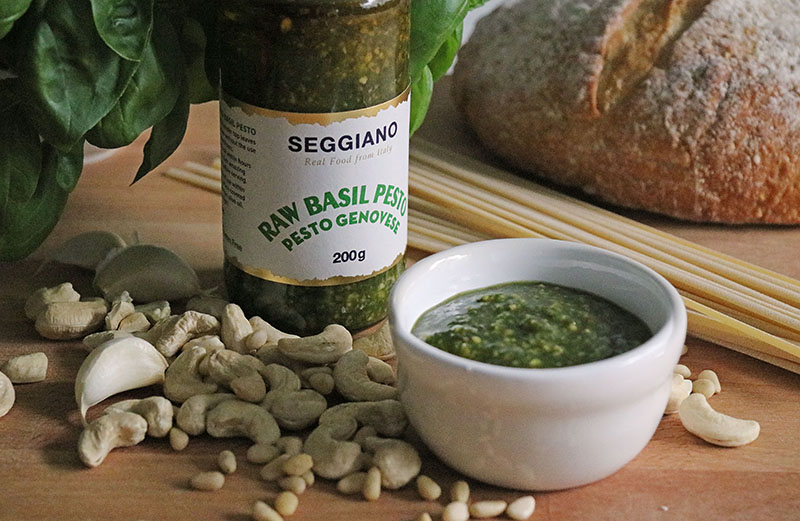 A luscious dark green and slick with extra virgin olive oil, Seggiano Raw Basil Pesto is everything you'd expect from a quality artisan product and there are some things you may not expect too.
The tall slender 200g jar is generously filled and retailing at around £6.40 it does seem rather expensive but the quality of ingredients and care that goes into making it does reliably add up.
The flavour is intense and aromatic with lashings of Ligurian basil and although maybe somewhat salty, if just licked from a spoon, it is perfectly balanced in seasoning when stirred through pasta. A little does indeed go a long way and in our view, that makes it well worth the price. Good to know, is that once opened, it will keep in the refrigerator for a month.
Seggiano Raw Basil Pesto is suitable for vegans
Perhaps one of the things we weren't expecting was that this pesto doesn't contain any cheese and even more surprising, no garlic either. How could it taste so good? The absence of garlic is actually a revelation and if you don't like garlicky pesto (some pestos being overpoweringly so) this allows for more control of flavours so you can add some if you wish.
The carefully hand picked tender top leaves of Ligurian basil are bathed in first rate extra virgin olive oil partnering together to be real stars of the show. Yes, all extra virgin olive oil, not blended with or using just sunflower oil.
As per the traditional Italian recipe, pine nuts are added and there are some cashew nuts too which are pulverised to just the right texture for a little bite.
The short and simple ingredients list also allows Seggiano Raw Basil Pesto to be GMO and gluten free too.
The expert production practices also permit the pesto to escape pasteurisation thereby maximising on flavour and retaining goodness.
Whether you're vegan or not, Seggiano Raw Basil Pesto packs a plentiful flavour punch in a variety of meals including pasta, risotto, salads, pizzas, roasted vegetables and bruschetta. There are so many dishes it can be used for, have a look at our list of other ideas to make the most of pesto.
Seggiano sell direct from their website and their products are also available to buy from many good delicatessens and farm shops.
Read more reviews of Seggiano products
Sign up to receive our newsletter
For the latest producer info, shows, markets, recipes, competitions and more each month.
Please be assured that we don't sell or pass on your information to third parties.
Keep up to date with:
New and approved producers and produce
Offers, discounts, competitions and more
Seasonal produce and great tasting downloadable recipe ideas
Shows, events and markets