Lots of food and drink prizes to be won in our 12 Days of Christmas competition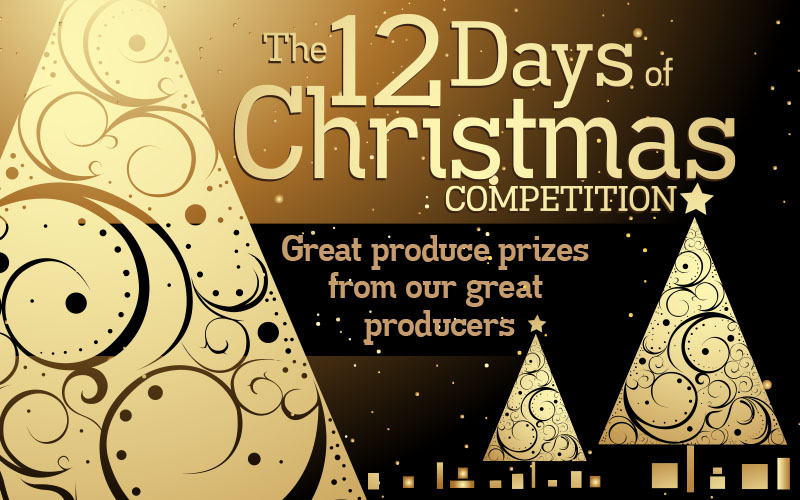 Win the best tasting products from producers on The Artisan Food Trail in our 12 Days of Christmas Competition
Christmas is a time for celebrating with family and friends and the perfect reason to indulge in something a little more special.
The Artisan Food Trail works with food and drink producers who make everything with skill and care using quality ingredients, suitable for a festive feast.
You could win soft drinks, sauces, fudge, olive oil, balsamic vinegars, honey, chocolate, preserves, venison salami, savoury pies, jams, hot chocolate drinks, kippers, smoked salmon, green tea, chutney, wine, mug & bowl set, tea hamper, condiments, a chilli experience and a voucher to spend on a range of smoked goods… from these producers:
Breckland Orchard ••• Yare Valley Oils ••• Fudge Kitchen ••• NV Greek Foods (Euzoea) •••Coco Pzazz.••• Eastgate Larder ••• Great Glen Charcuterie ••• Hearty Pies.••• Womersley Foods ••• Mortimer Chocolate Company ••• Morton's Traditional Taste ••• J Lawrie & Sons (Jaffy's) ••• Tg Green Teas ••• Hibiscus Lily ••• Heron Farm ••• Simply Ice Cream ••• The Lawn Collection ••• Trotter's Independent Condiments ••• Edible Ornamentals ••• The Artisan Smokehouse
Enter any of the competitions for your chance to win. Be quick though as the competition closes at midnight on Thursday 12th December 2019.
Sorry this competition is now closed
Sign up to receive our newsletter
For the latest producer info, shows, markets, recipes, competitions and more each month.
Please be assured that we don't sell or pass on your information to third parties.
Keep up to date with:
New and approved producers and produce
Offers, discounts, competitions and more
Seasonal produce and great tasting downloadable recipe ideas
Shows, events and markets